2014 Miss Côte d'Ivoire Contest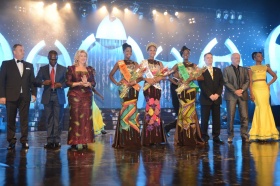 The 18th edition of Miss Côte d'Ivoire Organized by the National Miss Côte d'Ivoire Committee (Comici) recorded its apotheosis on Saturday 07th June 2014 at the Palais des congrès Sofitel Hotel Ivoire in Abidjan. Sponsored by the First Lady Mrs. Dominique Ouattara, on the theme reconciliation, has crowned Jennifer Yeo, a first years student in finance/accounting. Height 180 cm full height, the new queen of the Ivorian beauty is 18 years old. She got an average of 13.60% and holding number 15. With an average of 13, 30%, Samira Traboulsy, daughter of Ivorian rocker Jacques Traboulsy was elected first runner. Meanwhile Kouamé Anantys with an average of 11.16% qualified to 2nd runner-up rank.
The First Lady Dominique Ouattara, godmother of the Comici, offered CFA 10 million to the contestants of the competition. Each of the 23 the unhappy contestants received $ 200,000 F CFA. The second runner received 1 million CFA francs. First runner has, meanwhile, won the jackpot of CFA 1,400,000. And the new Miss Côte d'Ivoire has received $ 3 million CFA francs. In addition, the First Lady promised to support her participation in the Miss World contest. Moreover, the latter received the prizes of the Comici and a mobile operator, which amount to 10 million CFA francs. A new a 4×4 Nissan has also been given to Yéo Jennifer, the new Ivorian beauty queen.
Mrs. Dominique Ouattara, sponsor of the competition congratulated the various contestants: "This year, there are twenty six beauty queens who will compete for 2014 Miss Côte d'Ivoire title. I would like to offer them my congratulations for their selection at the finals. We know how much our Ivorian women are beautiful and distinguished. Also, reaching this level of the competition was far from a foregone conclusion. However, they have conquered the jury with their undeniable "physical and intellectual qualities, she praised. For the First Lady, the 2014 Miss, beyond the fact that she represents the Ivorian beauty, the new Miss must be able to embody Côte d'Ivoire through her values of peace, humanism and tolerance. Meanwhile, WIM Vanhellepute, CEO for MTN Côte d'Ivoire, thanked the First Lady for her continued support to Miss Côte d'Ivoire Contest.