2015 Presidential Campaign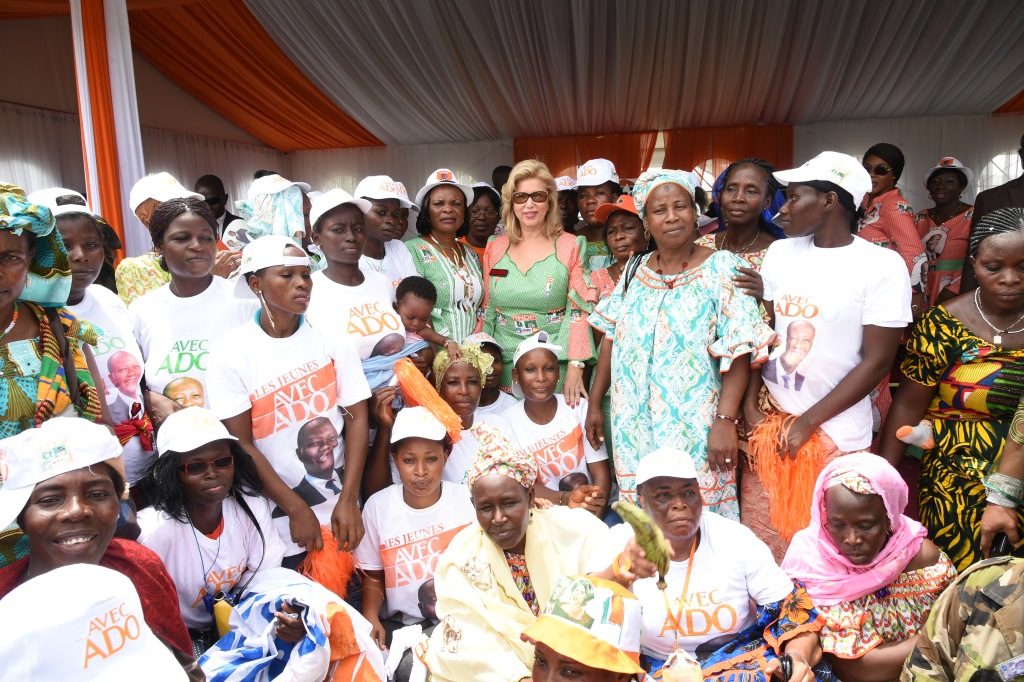 Women in trade and food secotrs in Côte d'Ivoire have decided to vote Dr. Alassane Ouattara, the only candidate of the Rally of Houphouetists for Democracy and Peace (RHDP) during the presidential election of October 25, 2015. They have expressed this choice of reason and of the heart in unity, on Thursday, October 22, 2015 in the garden of the "Palais de la Culture" of Treichville, during the recognition ceremony they have organized in honor of Mrs. Dominique Ouattara, First Lady of Côte d 'Ivoire. On this occasion, Mrs. Dominique Ouattara was "flanked" by Madame Henriette Bédié, President of the NGO "Servir", Mrs Kandia Camara, Minister of National and Technical Education, Mrs. Bamba Affoussiata-Lamine, Minister of Communication and Ibrahima Cissé Bacongo, Minister of Public Service and Administrative Reform.
Singing and dancing to the rhythm of popular songs, thousands of women who stormed the "Palais de la Culture" on the occasion reassured candidate Alassane Ouattara's wife their determination to re-elect him again as the country's leader. And that, in the first round of the presidential election.
To this end, the First Lady Dominique Ouattara has put women in order of battle for the re-election of Alassane Ouattara. According to the wife of the head of state, a candidate for re-election, Alassane Ouattara has the best profile to meet women's issues. In this regard, she was unequivocal. "(…) In 2010, you chose candidate Alassane Ouattara, because he was the best answer to your expectations. (…) Yes, you are right, women's candidate is called Alassane Ouattara. He is our hero, our champion, the man we must follow ", recommended Mrs. Dominique Ouattara. For Mrs. Dominique Ouattara, the reasons for this choice are rooted in the reforms undertaken by the head of state for women's emancipation and populations development. Thus, as evidence, she cited the Support Fund for the Women of Côte d'Ivoire (FAFCI) that enabled 100,000 women across the country to get out of poverty,; education through compulsory schooling, free health care, youth employment through the "AGIR" Project, the reorganization of the agricultural sector which has led to the reevaluation of the price of cocoa, the release of the salaries of civil servants and the rise of the SMIG.