37th Edition of the Paris Book Fair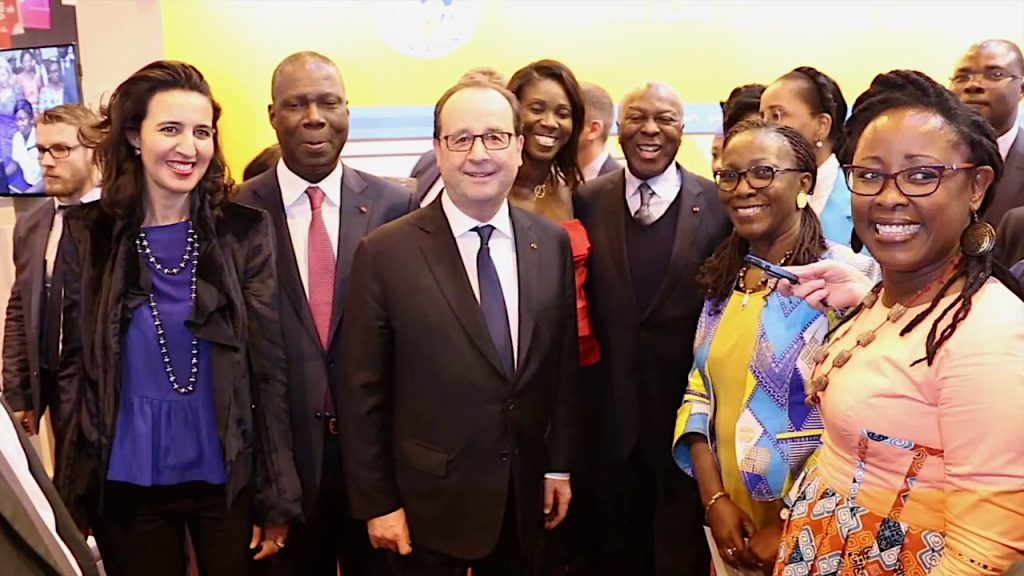 French President François Hollande visited the Paris Book Fair on Thursday, March 23rd, 2017. This 37th Edition, which is taking place at the Porte de Versailles in Paris, opened its doors on March 23rd and will extend to Four (04) days.
For this edition, the Paris Book Fair honors African literature through a pavilion that welcomes ten African participants. The section for children's literature of this pavilion sponsored by Children of Africa Foundation is the object of all the curiosities of the visitors. And the French head of state has not escaped the desire, like any passionate of culture, to discover on the one hand, education projects and initiatives in Africa and on the other hand, discover the richness of African literature dedicated to youth. During this visit, President François Hollande marked a stop in front of the stand of Mrs. Dominique Ouattara's Foundation. Decorated in the image of one of the famous bookmobiles of Children of Africa, this stand attracts visitors' attention because of its originality.
Mrs Cissé Aïssatou, Education Officer for Children Of Africa Foundation, explained the activities of Mrs. Ouattara's Foundation to the French Head of State. She ended by presenting the eight (08) bookmobiles of this foundation which criss-cross the entire Côte d'Ivoire to allow children to discover the joy of reading. In addition, writer and storyteller Michelle Lora, the guest of Madame Dominique Ouattara's Foundation for the animation of this stand, was able to share one of her stories with the French President. The latter did hide his pleasure.
At the end of the visit, he spoke to the microphones of the journalists present. "I already knew this foundation because Madame Dominique Ouattara had told me about it. Thus, we make sure to multiply these experiences in France also because we need to bring the book wherever there are sometimes children who are deprived of them, "stressed François Hollande.
In addition to books and stories, Children of Africa stand offers leaflets on the activities of its eight (08) bookmobiles. The stand is moderated by Michelle Lora, writer and storyteller. She welcomes toddlers and answers their concerns about the importance of reading.