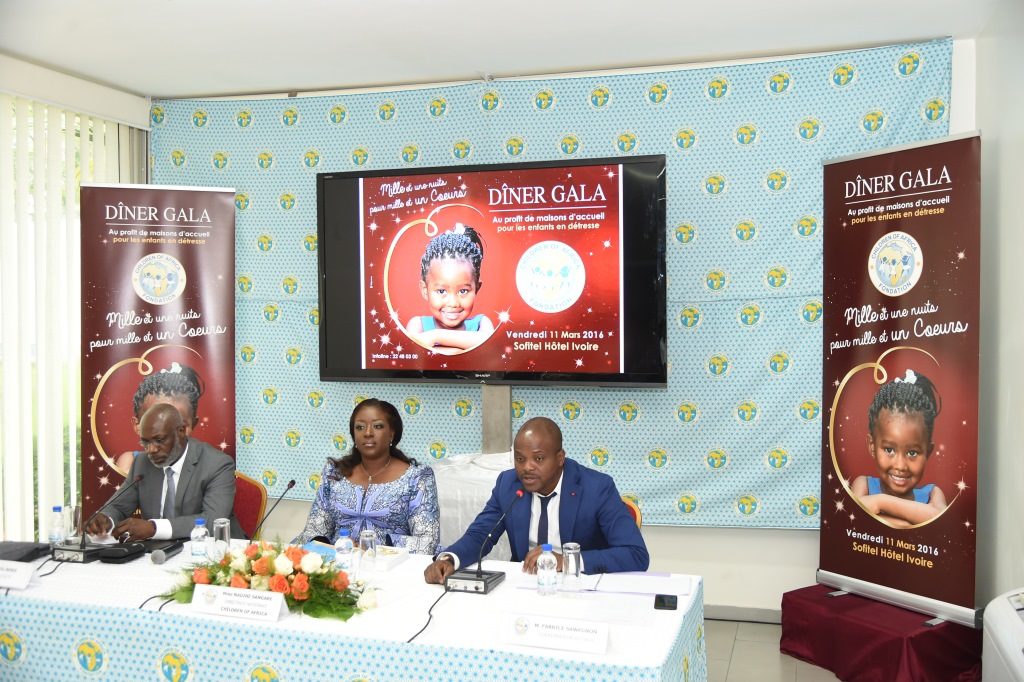 After the Mother Child Hospital of Bingerville which will open late 2016, Children Of Africa Foundation has just lifted the veil, during a press conference, off her new project for the improvement of children's living conditions.
In fact, the Foundation of Mrs. Dominique Ouattara announced on Thursday, January 21st, 2016, at its headquarters in Cocody, the construction of three (03) shelters for child victims of labor and abuse. A Charity Dinner held on Friday, March 11th, at the "Palais des Congrès" of the Sofitel Hotel Ivoire on the theme: "A thousand and one nights for and a thousand and one hearts," will help raise funds for the construction of these centers. These centers will be referred to as "distressed children's home houses" and the total construction cost of three is (03) billion CFA francs. Construction work will last twelve (12) months.
According to Nadine Sangaré, Côte d'Ivoire Director for Children of Africa Foundation, these shelters will be built in three (03) areas of the country in the grip of Child labor problem, namely, Ferkessédougou, Bouaké and Soubré. Nadine Sangaré lifted a corner of the veil on the reasons behind this project. "We found a lack of infrastructure for the care of child victims of trafficking and of various exploitations, when coming out of the traffickers's clutches. Today, there are too few centers capable of welcoming children in good conditions, "she justified.
Fabrice Sawegnon, the Gala Coordinator explained in details the organization of the Gala Dinner. Many international stars including the famous French actress Catherine Deneuve will tread the soil of the Ebrié lagoon. 900 people are expected at this rendez-vous of the heart. Envelopes, the top raffle prize is a car and an auction will help raise funds for the construction of the shelters. The icing on the cake will be a concert of the legendary Cuban group Aragon Orchestra.
Adou Benié, the architect responsible to conduct the construct project of the centers, presented all the amenities and services that these structures will provide for a better care for children.