8th Edition of the "Dominique Ouattara Cup"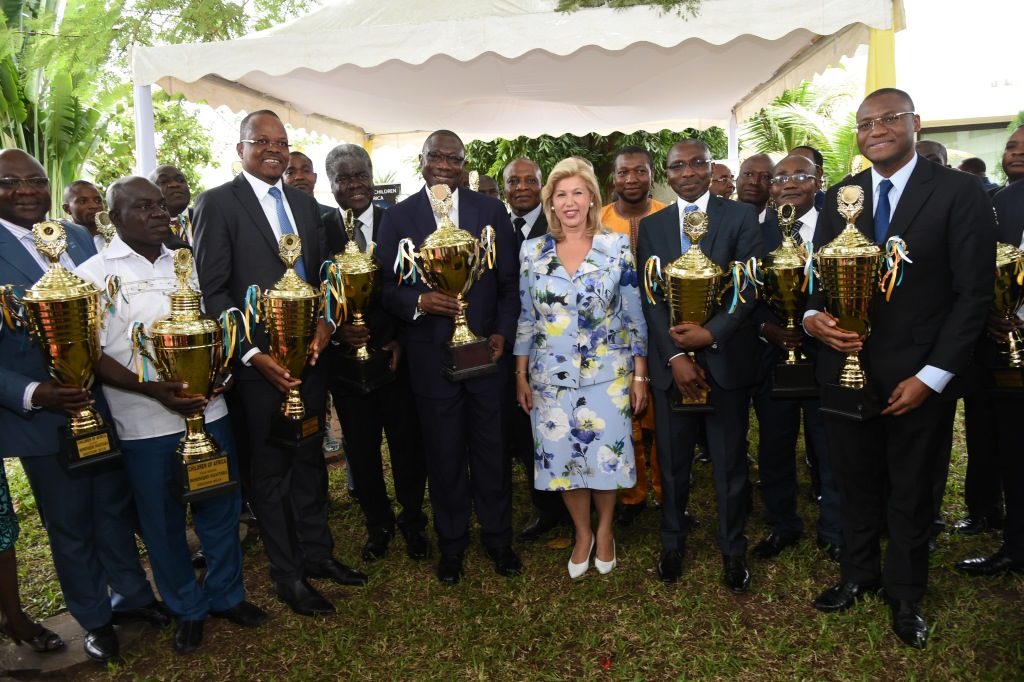 Mrs. Dominique Ouattara, Founding President of Children of Africa gave the kick-off for the 8th edition of the Cup that bears her name, on Wednesday, August 5th, 2015, in Cocody at the headquarters of her humanitarian foundation. The launching ceremony recorded the participation of Francis Albert Amichia, Minister of Sports and Leisure, Sidy Touré Tiémoko, Minister to the President of the Republic in charge of the Youth and Youth Employment Promotion, Méité Sindou, National Secretary for good governance and capacity building and the elected of the localities selected for the tournament.
This year, to please the toddlers, the Foundation of Mrs. Dominique Ouattara had to pay an amount of CFA francs 50 million to offer this tournament to schoolchildren from 7 to 15 years in the country. And the reason is as follows: unlike the previous edition, which took place in 18 cities nationwide, the 2015 edition will be held in 50 localities of the country. So, there are 13 municipalities in the District of Abidjan and 37 cities within the country that will be able to offer the magic of football to their children during these holidays.
Brief history. Mrs. Dominique Ouattara, founder of Children of Africa took this opportunity to remind the reasons underlying the organization of this tournament. "During the school year, the actions of Children of Africa Foundation, mainly cover the areas of education, health and social assistance. At the time of school holidays, it is essential for us to extend these actions to the promotion of more playful and fun activities for our children, "said Mrs. Dominique Ouattara. Also, the initiator of this sports competition, has reminded that in 2008 the first edition of the "Dominique Ouattara Cup" was organized in the commune of Abobo to allow children to spend healthy holidays. Thereafter, the initiation has been extended to two (2) other cities of Abidjan and finally sixteen (16) cities in the interior of the country. For Mrs. Dominique Ouattara organizing a football tournament is not trivial. A Unifying sport, football conveys values such as team spirit, discipline, respect for others and fair play. In short, it provides social vectors that allow toddlers' development in a harmonious society. "The tournament will start with the official launch of this day, to finish before the next school year," said Mrs. Dominique Ouattara.