Ahead of the state visit in the Woroba Region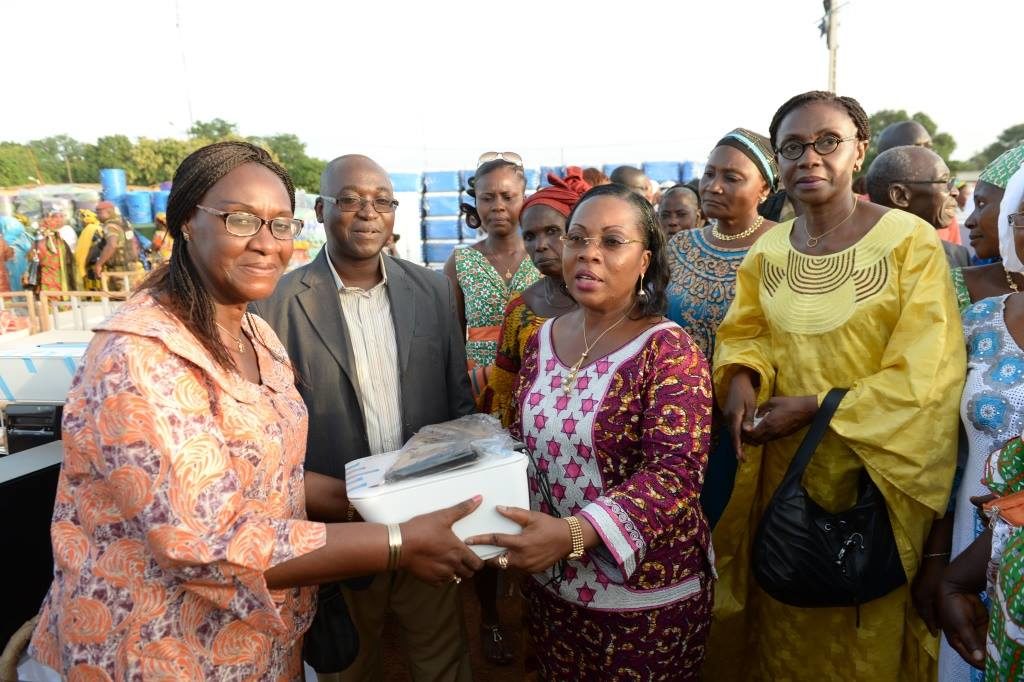 No living memeory has ever seen such an event in Mankono. More than 200 million CFA francs donations of various kinds. Here the solidarity action taken, Sunday, July 19th, 2015 in Mankono by Mrs Dominique Ouattara for her Koyaka sisters and brothers ahead of the state visit in the Woroba region.
Birthplace of the Minister of State, Minister of Employment, Social Affairs and Vocational Training, Dosso Moussa and Minister of Public Service and Administrative Reform, Ibrahim Cissé Bacongo, Mankono has warmly welcomed Mrs. Dominique Ouattara's envoys.
And as usual, Mrs. Dominique Ouattara wanted to show solidarity and support to the people of this department. They have been literally offered a shower of gifts. Indeed, in the name of the wife of the Head of State, Mrs Patricia Yao Sylvie has offered in-kind donations worth CFA francs 125 million. These donations include agricultural equipment for cooperatives and women's groups, various equipment for strengthening the activities of women in trade, hairdressing, sewing and restaurants. But also, learning materials for schools and colleges and medical equipment for the regional hospital (CHR) Mankono. Thus, in the health field, the First Lady has offered a new ambulance in addition to other materials to the CHR (University hospital) of Mankono.
The First Lady goes further. For, in addition to these in-kind donations, the representative of Mrs. Dominique Ouattara has announced the availability of funds 100 000 000 CFA francs under the Support Fund for Women of Côte d'Ivoire (FAFCI) in a microfinance the city to allow women to undertake income-generating activities. In total, donations of more than 225 million CFA francs that the First Lady Dominique Ouattara has offered Mankono populations.
Taking the floor, Mrs Patricia Sylvie Yao reiterated that it is a tradition for the presidential couple to support people in need. Mrs. Sylvie Patricia Yao recalled the charitable actions of the Children of Africa Foundation for the populations of Mankono. She has also emphasized the diversity nature of these gifts that take into account all professional and socioeconomic strata of the department.