Ahead of the visit of state in the LOH-Djiboua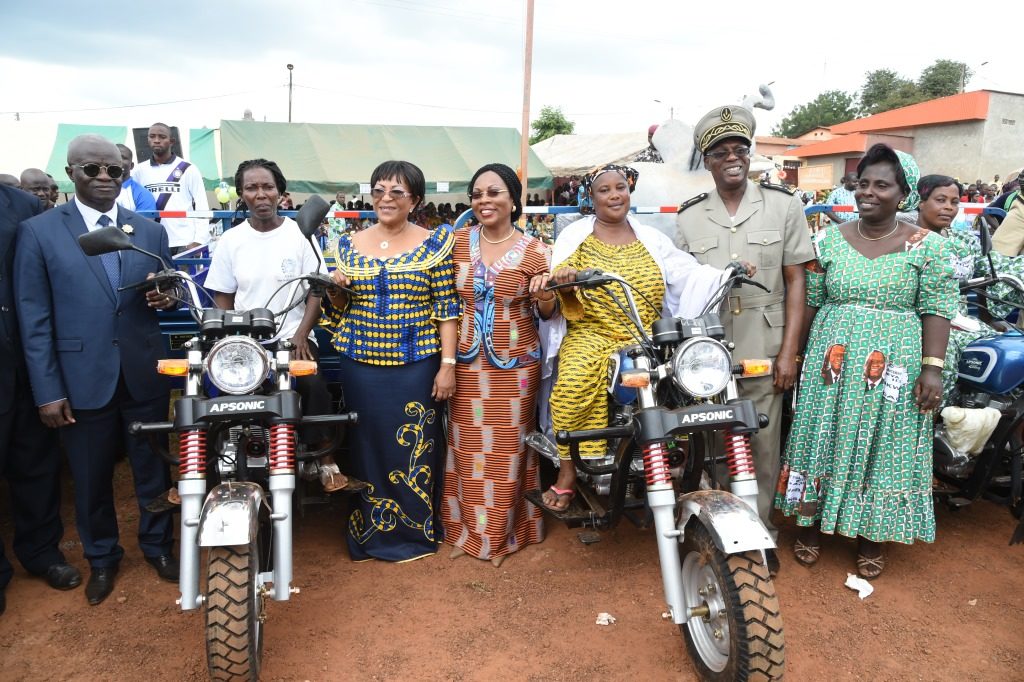 The department of Oumé located in Western Canada was the first step of the caravan of solidarity initiated by Mrs. Dominique Ouattara ahead of the state visit to the Nagorno-Sassandra, the Loh-Djiboua and Goh rgions. Indeed, as usual, the First Lady Dominique Ouattara held to precede President Alassane Ouattara in these areas to provide assistance and support to people severely affected by the years of crisis the country has suffered. An affection highly appreciated by the people of the department of Oumé, the first stage of this tour, highly mobilized, on Friday, September 25, 2015, within the premises of the Town Hall of the locality. The delegation of the office of the First Lady has been led by its Chief of Staff, Mrs. Yao Patricia Sylvie. In the name of the wife of the Head of State, Mrs. Patricia Yao Sylvie offered gifts worth more than 100 million CFA francs to Oumé people. These donations in kind have the merit of taking into account all socio-economic components of the department.
Thus, Mrs. Dominique Ouattara has offered equipment and materials to the cooperatives and groups of women engaged in agriculture. The restaurant managers, traders, hairdressers and seamstresses of the department also received equipment to strengthen their activities. A fervent activist for social and economic development of women, Mrs. Dominique Ouattara held to equip community centers and women's centers in the department.
A measure that will allow young girls out of school to learn trades. The wife of the Head of State also offered educational materials and games to kindergartens, primary schools, secondary and high schools of the department. In the area of health, Mrs. Dominique Ouattara has offered a new ambulance to the General Hospital Oumé and important biomedical equipment to the department's health centers. Finally, she offered tricycles and crutches to disabled people. In addition to these in-kind donations, Mrs. Dominique Ouattara has offered 1,100,000 CFA francs to these populations.
The FAFCI from 20 million CFA francs to 150 million CFA francs
Mrs. Sylvie Patricia Yao, Chief of Staff of the First Lady has used this meeting to call people to social cohesion. A prerequisite without which no development policy can be viable. She also revealed that, for this state visit, the First Lady reviewed the envelope of the Support Fund for the Women of Côte d'Ivoire (FAFCI) upward. Thus, the amount allocated to FAFCI shifted from 20 million CFA francs to 150 million F CFA to allow more women to undertake income generating activities. In addition, Mrs. Patricia Yao Sylvie reminded the will of the First Lady to help women fight against poverty.