Assessment of Children Of Africa 5th Ophthalmological Caravan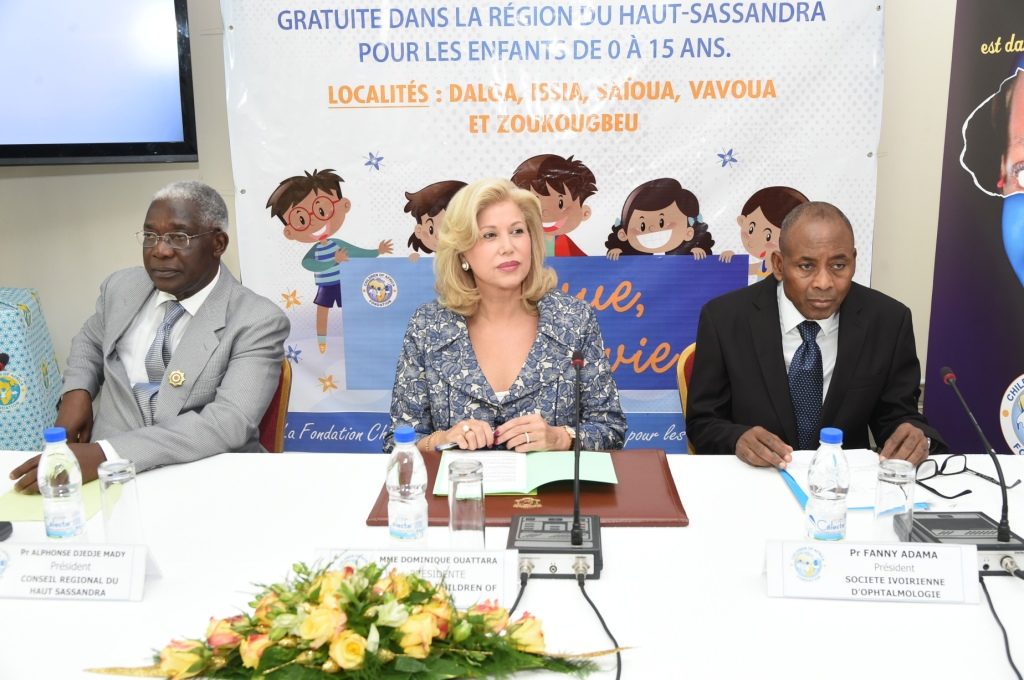 Children Of Africa Foundation 5th free care ophthalmological caravan has officially ended last April 29th in Daloa. Almost a month later, the time of assessment has come.
To this end, the consolidated results of this humanitarian mission which criss-crossed the Haut-Sassandra region from 21 to 29 April 2017 were shown to Mrs. Dominique Ouattara, President of Children Of Africa Foundation, during a press conference, on Wednesday, May 24th, 2017. The ceremony took place at the headquarters of Children Of Africa and was attended by elected officials and executives of the Haut-Sassandra, the traditional chiefdom of Marcory-Anoumabo, some members of Children Of Africa and journalists.
.
Professor Fanny Adama, President of the Ivorian Company of Ophthalmology, was given the duty to show the results to Mrs. Dominique Ouattara. Referring to the structure and functioning of the caravan, social mobilization and the different stages of the mission, Professor Fanny revealed that the 5th free care ophthalmological caravan of the Children Of Africa Foundation has enable them to support more than 20,000 children instead Of the 15,000 initially planned. 1,029 children received free corrective lenses.
According to Professor Fanny, out of the 20,000 children, 58% of this population is composed of girls and 42% of boys. A percentage that reflects the population of school children in Côte d'Ivoire, according to him. 48% of the consulted children during this caravan were detected pathology infected. The Pathology regularly detected in children was conjunctivitis. 30% of children were visually-impaired which requires the wearing of eyeglasses and 41% were suffering from cataracts.
The results have been welcomed by Mrs. Dominique Ouattara, President of Children Of Africa. "Thus, we have been able to take care of and detect 20,814 children, and 1,029 pairs of eyeglasses were given, as it has just been presented to us," Mrs. Dominique Ouattara reminded.