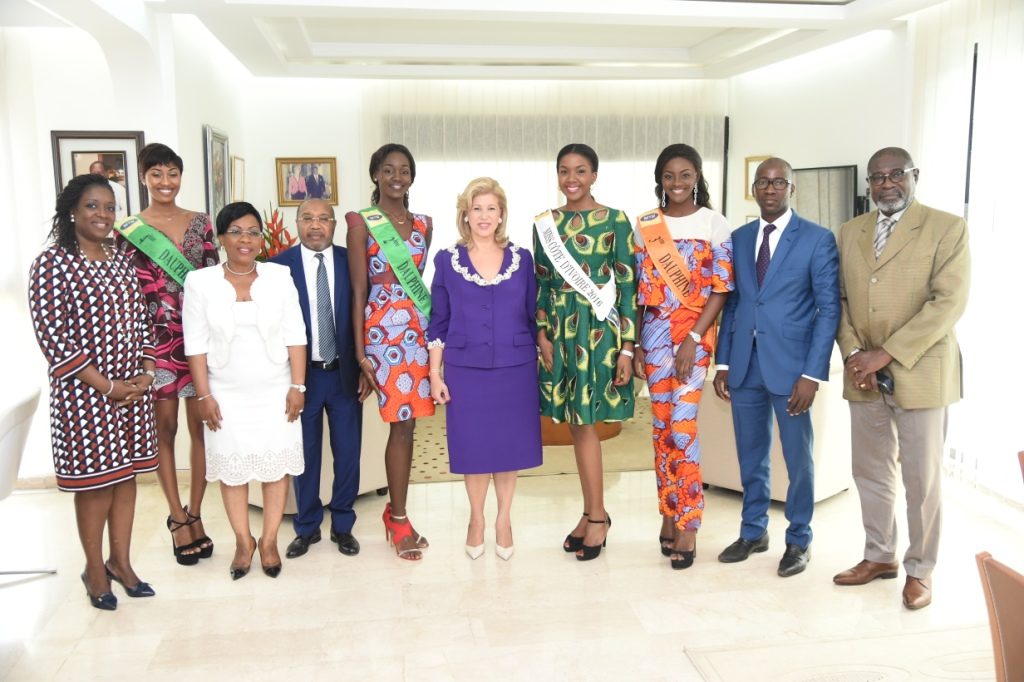 The First Lady, Dominique Ouattara received in audience Miss Estelle Memel, Miss Côte d'Ivoire 2016 and her dauphines, Thursday, November 10, 2016 at her office in Cocody. The Queen of Côte d'Ivoire beauty was accompanied by Victor Yapobi, President of the Miss Côte d'Ivoire Committee (COMICI) and his Vice-President, Jérôme Yapobi.
On a travel abroad, during the final of the Miss Côte d'Ivoire contest, Mrs. Dominique Ouattara, godmother of the competition, had not been able to meet until then the new ambassadresses of the Ivorian beauty.
It's now done! For about thirty minutes, the wife of the Head of state spoke with her goddaughters. She took advantage of this opportunity to hand over an envelope of 10 million CFA francs to the COMICI for Miss Côte d'Ivoire's participation in the Miss Monde contest.
"I would like to thank the First Lady, Godmother of the Miss Cote d'Ivoire Committee since several years. This morning we made a courtesy visit to the First Lady. In the finals of the 2016 Miss Cote d'Ivoire competition, the First Lady could not be present. So we came to present her godchildren and take her blessing to participate in the Miss World Contest, because it is she who gives us the opportunity every year to represent Côte d'Ivoire in this contest, "revealed Mr. Victor Yapobi, COMICI President, at the end of his audience.
Miss Estelle Memel, Miss Cote d'Ivoire 2016, meanwhile, has kindly lifted a corner of the veil on the message she sent to her godmother during this interview. "It was important for me, on behalf of all the finalists of the 2016 Miss Cote d'Ivoire contest, to say thank you to the First Lady for the gesture she makes and for all the support she gives to the COMICI for several years. It was also necessary to ask her permission for the various competitions to which we will participate, "said Miss Estelle Memel, Miss Cote d'Ivoire 2016.