Audience with the ''Fondation Jacobs''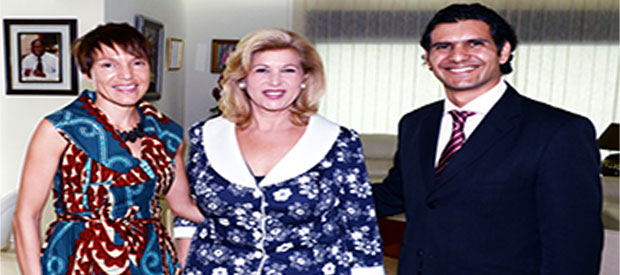 The "Fondation Jacobs" was founded in 1989 by Klaus Jacobs, a successful entrepreneur behind three (3) internationally renowned companies namely Jacobs Suchard, Barry Callebaut and Adecco.The Jacobs Foundation has set itself the task of supporting future generations by improving their development opportunities, including through education and training. Since 2013, the Jacobs Foundation supports projects in favor of the quality education in Alépé department.
Mrs. Dominique Ouattara welcomed the commitment of the Foundation to improve the quality of children's education. She reassured them of her support. Fabio Segura has served previously as chief investment officer at LGT Venture Philanthropy, where he was in charge since 2008 of the establishment and the growth of investments and the organization's operations in Latin America and the Caribbean.Fabio Segura was honored as Outstanding Young Persons of the World "TOYP" (Japan, 2008) and winner of the Andres Bello Prize for academic excellence granted by the Ministry of Education of Colombia.