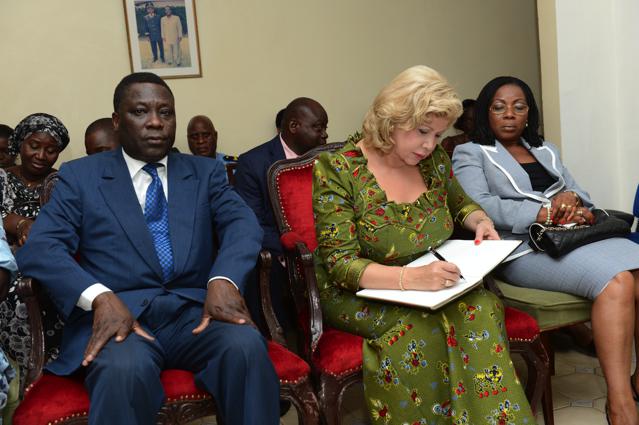 First Lady Dominique Ouattara showed on Monday, May 13th, 2013 in II Plateaux, condolences to the family of General Yao Brou Alain, former Director of the National Police Academy. Deeply affected by that tragedy, the First Lady expressed all her compassion to the family in the book of condolences. "In these painful circumstances, I would like to extend my most heartfelt condolences to the widow, children as well as to the family of General Alain Yao Brou. May his soul rest in peace," she etched on the book.
It was around 17H30 minutes, when the First Lady, Mrs. Dominique Ouattara, at the head of a large delegation, arrived at the family home of the former DG of the police academy. After the usual greetings, the honor went to Brahima Coulibaly, Director of Communications for the First Lady to deliver the news. And that, in accordance with the Akan tradition. In well-chosen words, he explained to the bereaved family, the sense of the presence of Mrs. Dominique Ouattara at their side, in these dark hours. "The First Lady came to testify to Mrs. Yao (the widow of the former CEO of the National Police Academy, Ed) and to the whole family, all her compassion," he said. He also said that after the death of General Yao Brou Alain, the First Lady wanted to present personally her condolences to the family. Also, her presence in response to a promise she made to the widow. In order to help the family meet its immediate needs, Dominique Ouattara offered 2 million CFA francs to the family. In addition, she offered one million CFA francs to the widow, 500,000 CFA francs to the children of disappeared and 500,000 CFA francs to other relatives. On behalf of the family, Mr. Yao Koffi Kouamé in return thanked the First Lady and the members of her delegation for their gesture and concern.
The Inspector General of State, Niamien N'Goran and the Director General of the National Police, General Bredou M'Bia were alongside the the First Lady.