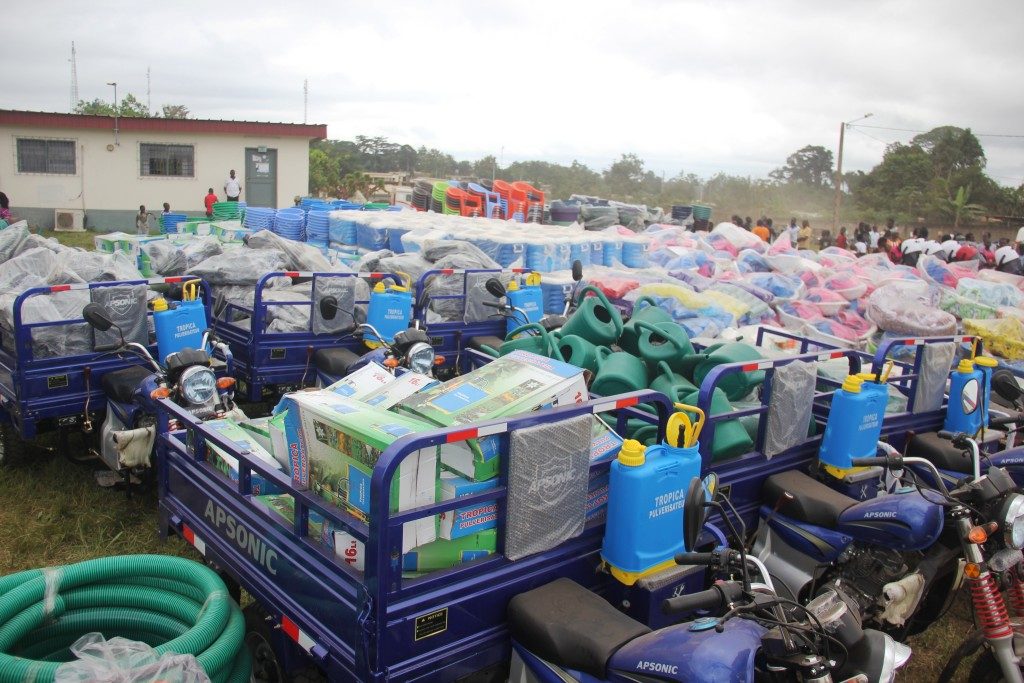 In preparation for the state visit in the Indénié-Djuablin Region, the First Lady Dominique Ouattara provided in-kind donations worth CFA francs 115 million to the people of Bettié, on 15 September 2015. The delivery ceremony of these gifts took place in the precincts of the town tall. The gifts of the Head of State's wife have been handed over by a delegation from the Office of the First Lady led by Mrs. Aissatou Coulibaly.
Indeed, the First Lady has equipped, the health centers of the department, women engaged in agriculture, catering, hairdressing, , nursery schools, primary and secondary schools of Bettié.
Specifically, in the health field, the donations include (01) ambulance, motorcycles, medical refrigerators, hospital beds, mattresses, delivery table, cradles, carts, baskets filled and delivery incentive kits offered to health centers of the department. In agriculture, mills, shellers, mototricycles, motor pumps, sprayers have been offered to women's groups and cooperatives engaged in agriculture. In the field of catering, stoves, freezers, refrigerators, coolers, bowls, jugs, plates, to name just a few, have been offered to the women of the department. As for hairdressing and sewing, professional headsets, washing heads, hairdressing equipment kits, sewing machines and sewing material will enable women to strengthen their activities.
In education field, games, computers, teaching and maintenance materials, footballs, games, jerseys, and many others gifts have been provided to the kindergartens and schools, secondary and high schools of Bettie. Besides this, the First Lady Dominique Ouattara handed out tricycles manual and crutches for disabled people.