Cancer treatment in Côte d'Ivoire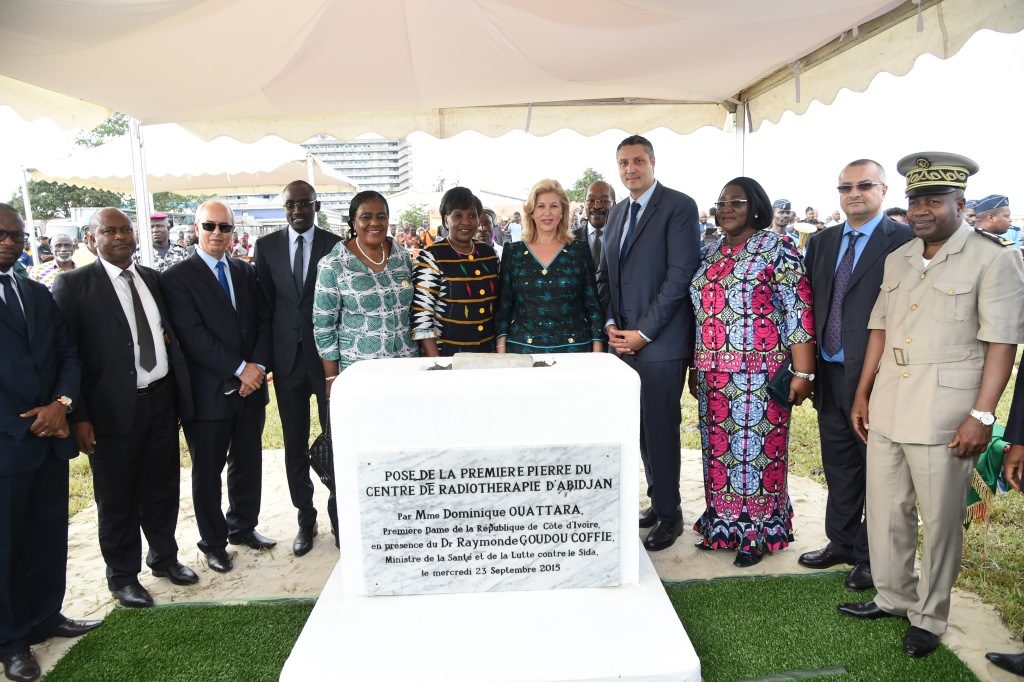 First Lady Dominique Ouattara has laid the first stone of a radiotherapy center, Wednesday, September 23, 2015, at the University Hospital of Cocody. The radiotherapy center, the first of its kind in Côte d'Ivoire will help support cancer patients. The radiotherapy center will cost about 8 billion CFA francs to the State of Côte d'Ivoire. This is a good quality step ofr the treatment of cancer in Côte d'Ivoire. Because now people with this disease will find locally adequate technical facilities for the treatment of their illness.
Mrs. Dominique Ouattara, First Lady of Côte d'Ivoire and in her capacity as Special Ambassador for UNAIDS to accelerate access to pediatric treatment of HIV / AIDS and her commitment for many years against the prevention of various forms of cancer, wanted to bring her touch to the ceremony. Thus, the wife of the head of state praised the project. "(…) Building a radiotherapy center in Côte d'Ivoire, is a big step that we take, not only to strengthen our fight against one of the most dreaded diseases that exists in the world: cancer; but also to meaningfully participate in alleviating patients' suffering and dispel families despair ", thanked the First Lady. The wife of the Head of State cited the many constraints related to this disease.
The excessive cost of treatment because patients need to travel to other countries and the financial impact on the patient and his family members are some constraints revealed by Mrs. Dominique Ouattara. I's also in this context she organized, a few months ago in collaboration with the Princess Lalla Salma's Foundation, wife of the King of Morocco, the departure of several children suffering from cancer for Care to Morocco. "This radiotherapy center, of which we are lying the foundation stone today will allow many patients to have on-site access to appropriate care. I welcome this significant step forward in the care of patients in our country. And I remain convinced that this center will not be the last to emerge, as the needs are great, and the ailments needing to be cured are many, "wished Mrs. Dominique Ouattara.