Child labour survey in cocoa production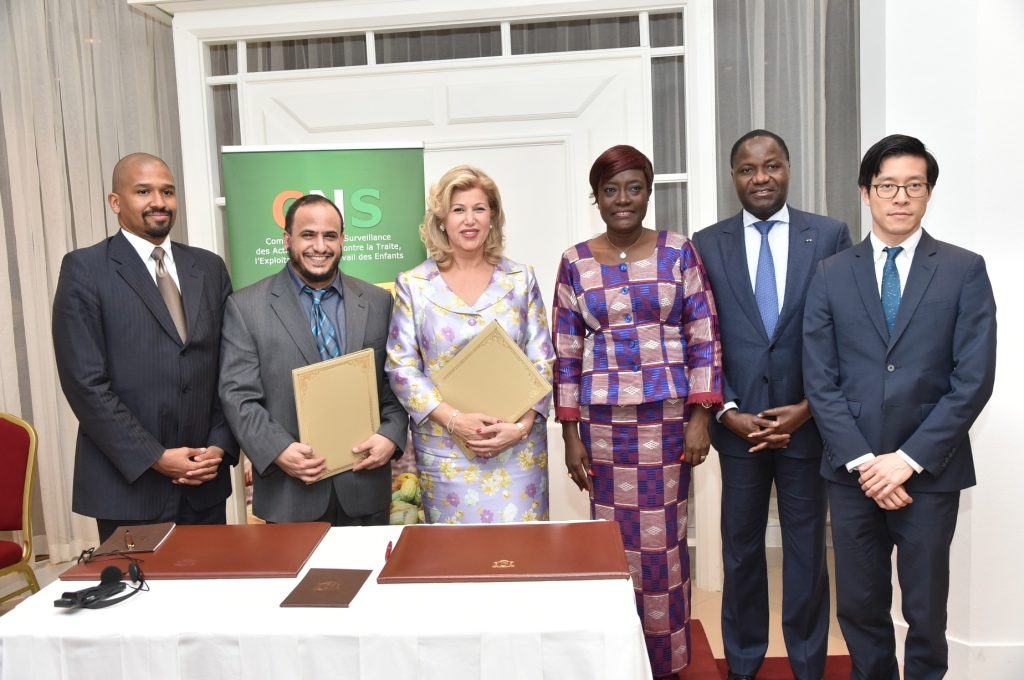 In a few weeks NORC at the University of Chicago, specializing in social research, will conduct a survey in Côte d'Ivoire on child labour in cocoa production. In view of that, the First Lady, Dominique Ouattara, President of the National Oversight Committee for the Fight against Trafficking, Exploitation and Child Labour (CNS) proceeded to the signing of an agreement with NORC. The signing ceremony of this agreement took place on Friday, February 16, 2018, at the Ivoire Golf Club. This ceremony witnessed the presence of Mrs. Mariatou Koné, Minister of Women, Child Protection and Solidarity and Vice-President of the Interministerial Committee, Mr. Coulibaly Sangafowa, Minister of Agriculture and Rural Development, Mr. M. Kevin Hong, Senior International Relations Officer at the United States Department of Labor (USDOL), and Mr. David Mosby, Chief, Political and Economic Section at the US  Embassy in Côte d'Ivoire.
Before the signing ceremony, there was a validation workshop of the methodology  for the 2018-2019 survey on Child Labor in cocoa growing areas of Côte d'Ivoire.
For Mrs. Dominique Ouattara, First Lady of Côte d'Ivoire, the signing of this agreement allows for a common and consensual approach to assess the prevalence of child labour in cocoa plantations. "This is the third survey financed by USDOL. Through this agreement, both parties agree to work together on all aspects of the survey methodology and to bring their common expertise to each step. I welcome the signing of this cooperation agreement, which  enables our national experts to participate in the conduct of the survey, while respecting the international standards in force, "she noted. For the President of the CNS, this survey will assess all efforts made by Cote d'Ivoire to eliminate child labour. However, she urged all stakeholders to take into account Ivorian legislation, particularly the two decrees determining the list of light or socializing work authorized for children between the ages of 13 and 16 and the list of hazardous work prohibited to children.