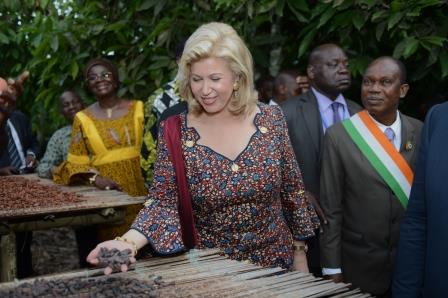 The Chocolate Show of Paris will celebrate, on Tuesday, Oct. 28, 2014, its 20th anniversary. First Lady Dominique Ouattara, President of the National Oversight Committee for actions of Fight against Trafficking, exploitation and Child Labor (CNS) is the sponsor of this edition. An honor for Côte d'Ivoire, the World 1st cocoa producer. Certainly the President of the CNS will present the efforts undertaken by Côte d'Ivoire to fight this scourge in cocoa farming and share with chocolate consumers and industrials the reasons of her commitment.
The guests on the opening party will discover, next Tuesday, Oct. 28, in preview the show that will run from October 29th to November 2nd, 2014. A birthday parade of chocolate dresses presented by Laurent Boyer will highlight opening evening. It will also help present to the guests, the one hundred (100) best dresses imagined since 20 years for the chocolate show by designers and chocolatiers duos and a special anniversary collection. The models will be hand doors sixty (60) People pay this unique evening party. The evening party will end with the inauguration of the exhibition of which the theme is: "Chocolate, universal heritage."
Let's underline that the Chocolate Show is the must for those who share the passion for this exceptional product. The Show will offer chocolate lovers 20,000 sq. area on two (2) levels fully dedicated to the cocoa world. A stand is dedicated to the Côte d'Ivoire.