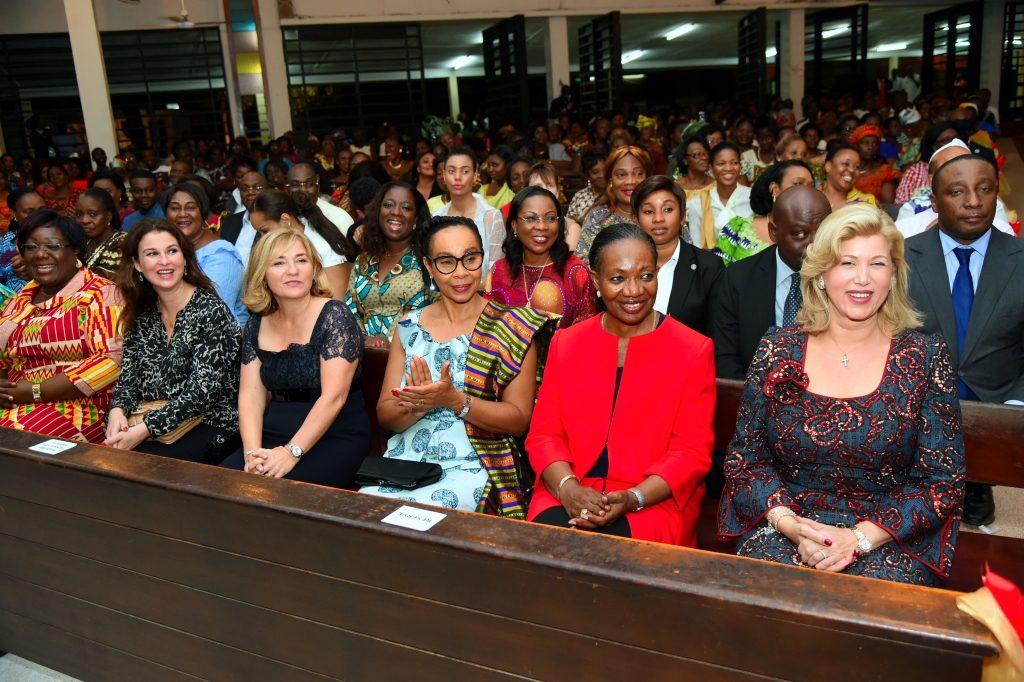 The First Lady Dominique Ouattara has celebrated Christmas Mass, Thursday, December 24th, 2015, at the Saint-Jean Parish of Cocody. The wife of the Head of State had at her side, for this purpose, several personalities including the Grand Chancellor of the National Order, Madame Henriette Dagri Diabaté, the Minister of Solidarity, Family, Women and Child, Anne Desirée Ouloto, the Minister of Health and the Fight against HIV / Aids, Madame Coffie Goudou Raymonde,, the Trade Minister, Jean-Louis Billon, the Minister of Culture and Francophony, Maurice Kouakou Bandama. To celebrate this Mass of the Nativity, Mrs. Dominique Ouattara was keen to lend her support to parishioners and for the construction of the yards in the Parish of Saint-Jean in Cocody.
To this end, she offered five million CFA francs for the construction of the parish. In addition, she offered significant envelopes to Church members and to the clergy. An act strongly welcomed by the members of the Parish, on this Nativity night. They have also presented gifts to their host. Thus the parishioners offered the National Catholic loincloth and a drawing to the wife of the Head of State.
After the Mass, the First Lady, Mrs. Dominique Ouattara, as usual, wished a merry Christmas to all Christians, but she has not forgotten the Muslims who celebrate the same day, the Mahoulid, the commemoration of the birth of Prophet Mohamed. "I would like to wish a very happy Christmas to all and to all Ivorians, both men and women, and also to all our Muslim brothers who celebrate the Mahoulid" wished the First Lady Dominique Ouattara.
The honor went to the Priest of the Parish of Saint-Jean of Cocody, Br. Hyppolite Agnigori pronounce the homily of the day. During his sermon, the man of God emphasized the symbolism of the birth of Christ, the Savior. A symbolism which is surrounded by the mystery of the simplicity of his birth and of his earthly life.
Speaking on behalf of the children of his parish, Father Norbert Abekan thanked the First Lady for her commitment to the well-being of her fellow citizens.