Christmas service in Assinie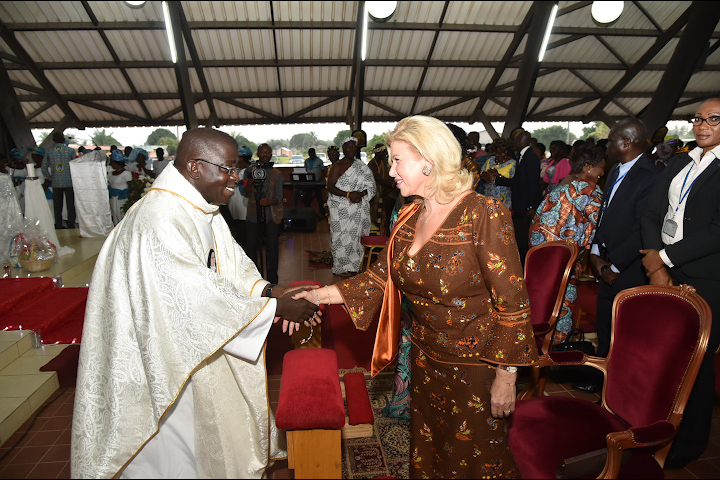 The First Lady, Dominique Ouattara celebrated this year the Christmas service at the 'Sainte Thérèse de l'enfant Jésus' church in Assinie along with several officials including Mrs. Clarisse Duncan, wife of Vice-President Daniel Kablan Duncan, the Minister of Water and Forests, Alain Richard Donwahi. Indeed, the wife of the Head of State commemorated Jesus Christ's birth on Saturday, December 24, 2017, at the parish of Assinie. Thus, for over an hour, Mrs. Dominique Ouattara prayed with the christians of Assinie. After the celebration, she took the opportunity to wish a merry Christmas to all her fellow citizens.
"We have just attended Christmas service at the Saint Therese Church in Assinie. You already know that when I travel to Assinie I feel at home. I live here, so I am happy to celebrate Christmas with all of you, people of Assinie. It was a beautiful and touching moment. I wish a merry Christmas to all Ivorians. I hope they will have a very pleasant holiday, "she said. The First Lady also took the opportunity to offer various gifts highly appreciated by the clergy and parishioners. Father Toure Niamkey Emmanuel expressed his thanks to the First Lady for her donations and presence at the service.
Raymond Ahoua, Bishop of the Diocese of Grand Bassam also expressed his gratitude to the First Lady.In return the church offered to the First Lady a beautiful portrait-painting and african clothes.