Compendium of Women's Skills in Côte d'Ivoire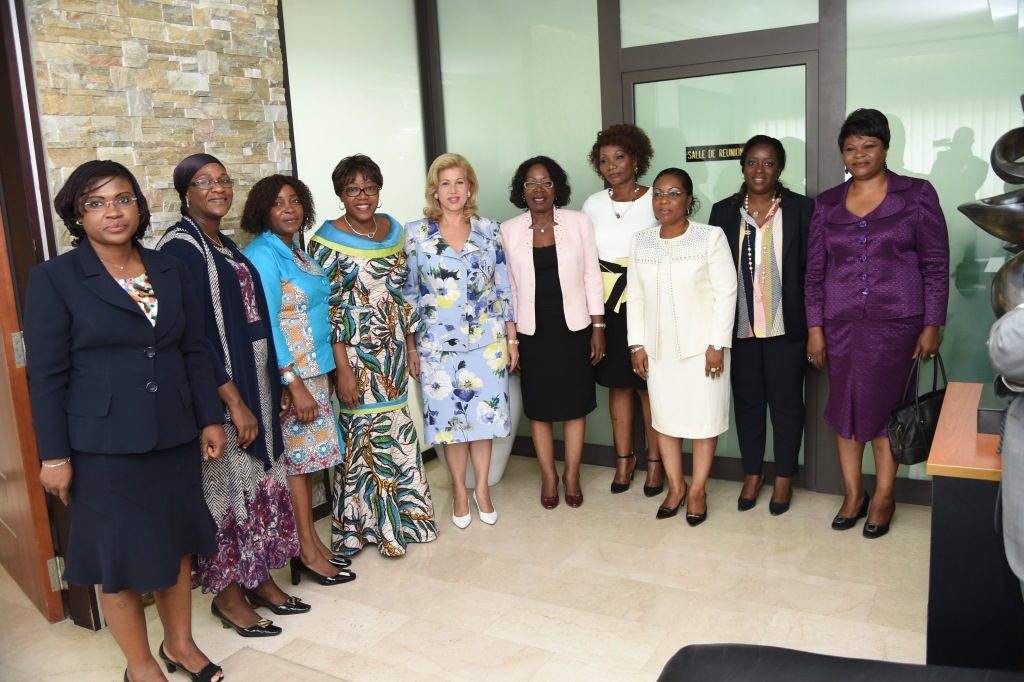 First Lady Dominique Ouattara received in audience a delegation from the Women's Skills Compendium of Côte d'Ivoire, on Tuesday, April 21, 2015 at her office in Cocody. The delegation was led by Mrs. Jeanne Peuhmond, Special Advisor to the President of the Republic in charge of gender issues. Mrs Peuhmond was flanked by Mrs. Euphrasia Yao, Coordinator of Women's Compendium skills; Mrs. Mariam Diakité CEO of Schneider and Dr. Rose Neury, educator and scholar.
During the meeting, the members of this structure thank the First Lady Dominique Ouattara, also patron of the Women's Compendium, for her backing and support for this project since its launch on February 4, 2011. Four (4) years later, the project gave birth to the first directory of Côte d'Ivoire Women's Skills taking into account the high level women executives with outstanding career. It was thus natural that as godmother Mrs. Dominique Ouattara receives a copy of the directory like the Head of State on March 2nd.
After presenting in details the board of directors to their godmother, Mrs. Jeanne Peuhmond, Special Adviser to the President of the Republic requested support before this document is doomed to oblivion. The «Yearbook of skills is a valuable tool, which should be actually used by policy makers to facilitate the recruitment, appointment and promotion of women at all levels of decision in the public and private sectors. Madam First Lady, we express the would like you to be our advocate with your husband HE the President of the Republic and other decision makers so that this yearbook actually serves as a tool to aid decision making and the advancement of women. Thanks to you, we hope that this document will not be an additional document, "she pleaded.
Mrs. Dominique Ouattara reassured her godchildren her full availability. Furthermore she provided them wise advice to popularize the document to all decision makers and in business space.
The yearbook of women's skills includes 1,003 women. They are classified by sectors and in alphabetical order with information about their areas of expertise, years of experience and a reference number identifying them.