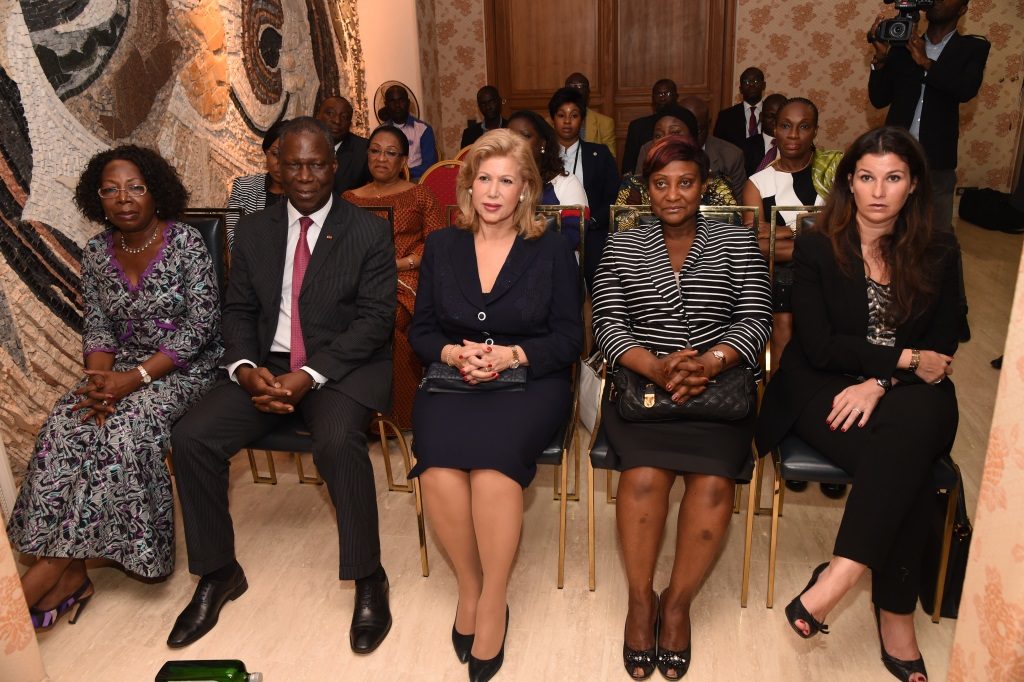 The First Lady Dominique Ouattara has expressed all the pain that is striking the presidential couple following the death of Dean Aka Bonny Lambert.
This is the heart bruised by pain that the First Lady Dominique Ouattara went, on Monday, Nov. 17, 2014, to the bedside of the Boigny family, following the death of Aka Aka Bonny Lambert, on October 13 in Abidjan. Close to the family of the deceased, Mrs. Dominique Ouattara could not stand on the sidelines of the mourning that is hitting them with full strength.
Therefore she logically offers her condolences and those of President Alassane Ouattara to the family of the illustrious deceased.
Former Special Adviser to President Félix Houphouet Boigny, founding member of the African Agricultural Union and the Democratic Party of Côte d'Ivoire (PDCI- RDR), dean Aka Bonny Lambert was also a close friend to presidential couple.
At the head of a large delegation composed of the Minister of Culture and Francophonie, Maurice Kouakou Bandama; the Special Adviser to the President in charge of Gender and Social Affairs, Jeanne Peuhmond; CEO of PETROCI Foundation, Mrs. Aya Virginie Touré; of her closest collaborators, but also of her daughter, Nathalie Bejami,the First Lady Dominique Ouattara visited the family home of the deceased.
In relation to the pure Akan tradition, she translated all the pain that grieves the presidential couple since the death of Lambert Aka Bonny. On behalf of the presidential couple, the Minister of Culture Maurice Kouakou Bandama explained the fraternal ties between the Boigny family and the Presidential couple. "She came to comfort the family members and help them cry. She comes to tell you that the presidential couple will take their full part throughout the funeral. The First Lady Dominique Ouattara come to mourn her father. She comes to say yako to the members of her family, to her brothers and sisters, "said Maurice Kouakou Bandama.
On behalf of the family of the deceased, Kacou Lambert, a member of the family thanked the First Lady Dominique Ouattara.
Lt's note that the Dean Lambert Aka Bonny will be buried on Saturday, November 29, 2014 at N'Guessan – Pokoukro his native village. Beforehand the family receives condolences at the family home in Cocody, from Thursday 20th to Monday, November 24th, 2014. The removal of the corpse will take place on Friday, November 28th, 2014 at Ivosep in the Félix Houphouet-Boigny room followed by the transfer to N'Guessan-Pokoukro.