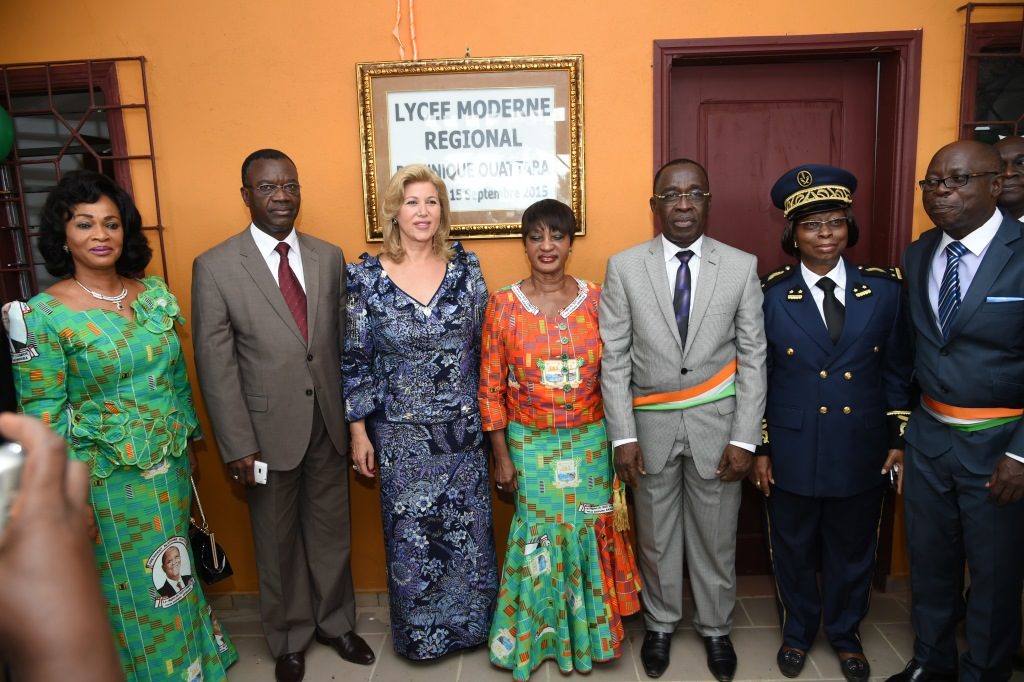 In the margins of the state visit in the South Comoé, the First Lady inaugurated, Tuesday, September 15, 2015, the modern regional secondary school "Dominique Ouattara" of Assouba, a locality situated 5 km from Aboisso. Built by the Regional Council of the South Comoé, this school will enable children to receive a quality education. First Lady Dominique Ouattara at the forefront in the struggle for the improvement of education through her foundation Children of Africa was keen to lend her support to this work. She also clarified things through her speech. For the latter, the opening of this school is important because it is part of the policy for the improvement of education in Côte d'Ivoire. Also, the wife of the Head of State took this opportunity to make donations in cash and kind worth CFA francs 10 million to the modern and secondary school to the populations of Assouba. These are food, cleaning products and educational equipment worth CFA francs 8 million that have been offered by the godmother of the modern regional high school Assouba. In addition, the Head of State's wife has offered CFA francs two million for students, faculty and the populations of Aboisso.
Minister Aouélé Aka, president of the Regional Council of the South Comoé thanked the First Lady Dominique Ouattara for having agreed to put her name on this prestigious institution. He revealed that this property is one of six made in 4 years of management of the region by his team.
Dea Assé Audrey, student of 6th form of the secondary school has, in turn, thanked Mrs. Dominique Ouattara for agreeing to be the godmother of Assouba modern secondary high school.