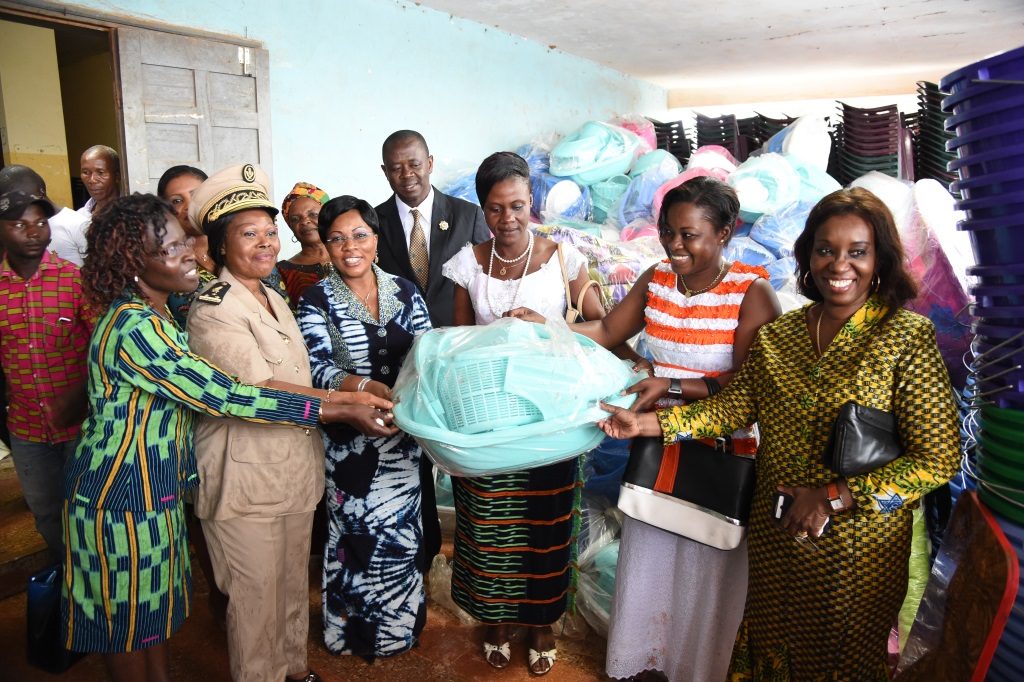 The journey of the delegation of cabinet of the First Lady Dominique Ouattara in the Iffou region, ahead of the state visit, continues. After M'Bahiakro, the delegation led by Mrs. Patricia Yao Sylvie, Chief of Staff to the First Lady visited, Friday, Sept. 12, 2014, the populations of Andoh department of Prikro. On this opportunity, the collaborator of Dominique Ouattara was flanked by Mrs. Bedie Traoré, daughter of President Henri Konan Bedie. In Prikro as well as the day before in M'Bahiakro, the emissary of Mrs. Dominique Ouattara has made significant donations to the department's populations. In fact, the delegation of the Office of the First Lady offered food to the canteens and other materials for the strengthening of technical platform of the health centers of the department; associations and women's groups; as well as to young people; the disabled; to schools as kindergarten, primary and secondary.
These are all social and professional groups of the department who have benefited from the generosity of Mrs. Dominique Ouattara. Thus, for the health centers of the department, two ambulances have been donated to the urban health center and to the one of Nafana Koffi-Amonkro. In addition, these health centers have received electrical hospitalizations beds with mattresses; mattresses; birthing tables; gynecological examination tables; medical refrigerators; boxes of delivery; trimmed baskets; incentive packages; trolleys; boxes of baby care and baby Bavois include the products offered.
Cooperatives and women's groups in agriculture received tractors; rice and corn huskers; corn flour and cassava macerator; motor-tricycles; cassava presser; sprayers; watering cans and many other gifts. Conservators have received for their stoves; basins and everything necessary for the exercise of their profession. The same thing has been done for the hairdressers and seamstresses in the department. They received hoods; coin-heads; storage shelves; sewing machines; a lot of barber and a lot of sewing equipment. Women's centers and social centers have not been forgotten. Indeed, they received motorcycles; computer kits; stoves and other gifts that will only be operational.
The youth of the department received tarpaulin shelters; malaga of chairs; games jersey and all the necessary equipment to safely fill and combine business with pleasure. Schools and kindergartens in department received computer kits; storage cabinets; offices for principals; geometric sets and other machinery for a resumption of effective courses during this academic year.