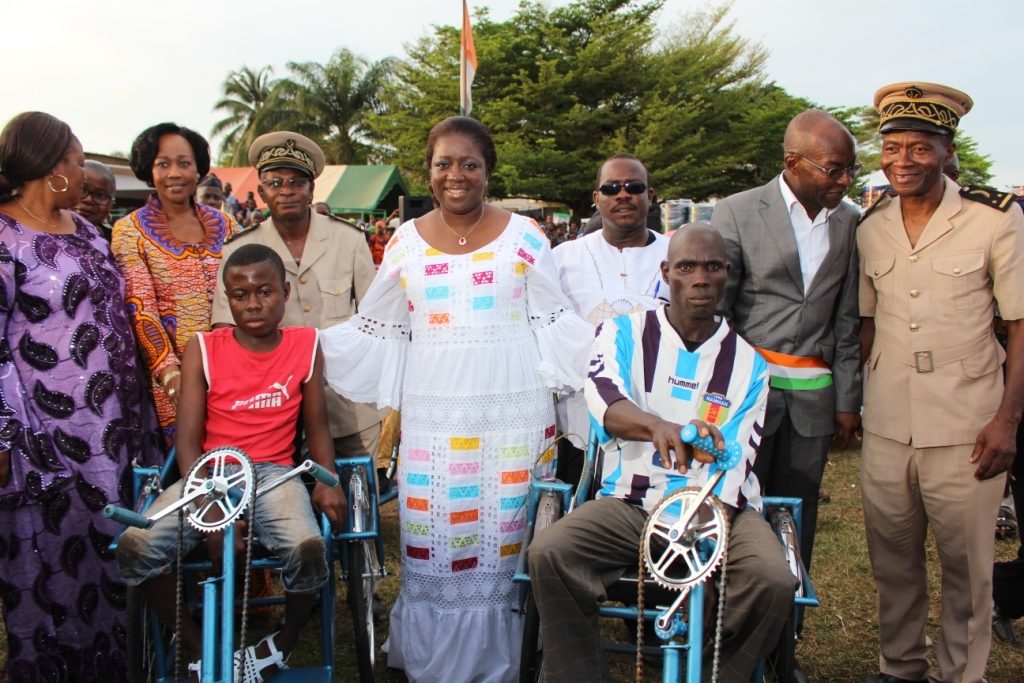 In preparation for the state visit in the Haut-Sassandra Region, the First Dominique Ouattara gave, in-kind donations worth 120 million CFA francs, including a brand new ambulance, to the population of the Department of Vavoua, on Friday, September 25, 2015, in the Town Hall yard.
Donations in agriculture including shellers, mototricylcles, motor pumps kits, sprayers, in the health, commercial, social, catering, hairdressing, sewing sector, as well as donations in the field of education.
Taking the floor, Mrs. Nadine Sangaré, representative of the First Lady, also Director for Humanitarian Action of the Office of the First Lady has indicated that the populations of the Department of Vavoua, especially women can count on President Alassane Ouattara and the First Lady Dominique Ouattara for their development. "(…) Dear sisters, you can count on the help of the President of the Republic (Ouattara, ed) and the First Lady (Dominique Ouattara, ed) to help you be independent for the happiness of your families" assured the representative of the wife of the Head of State.
Moreover, under the Support Fund for the Women of Côte d'Ivoire (FAFCI), Nadine Sangaré announced, the availability of a budget of 80 million CFA francs to finance Women's micro-projects in the Department.
The representative of the wife of the Head of State has finally translated the warm greetings of the First Lady to the people of Vavoua, and her thanks for the warm welcome.
In return, Augustin Dehoule N'Guessan, the Prefect of Vavoua expressed his "infinite gratitude to the Presidential Couple and emphasized that" these important gestures of very high humanitarian and social meaning will remain engraved in the minds of our citizens" . Then the Prefect of Vavoua Department addressed the President of the Republic and the First Lady Dominique Ouattara. "Tell the Presidential Couple that the populations of Vavoua will move in large numbers alongside their peers of the Haut-Sassandra, to book them a warm welcome in Daloa," argues the Prefect of Vavoua.