Diplomatic offensive: Fight against child labor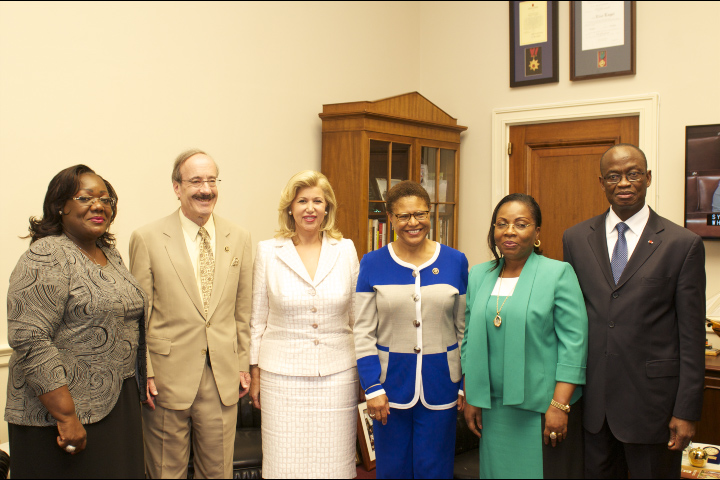 Côte d'Ivoire has made a giant step in the fight against child labor. And that to share this commitment and determination of the State of Côte d'Ivoire to address child labor phenomenon as the First Lady multiplies hearings and meetings in Washington. Following the meeting with the Labor Ministry where she participated in the annual meeting of the coordination group of actions against child labor, the President of the National Oversight Committee for Actions Against Child Trafficking has been received, on 25 June 2015, in the early afternoon in the US Congress by Honorable Eliot Engel and Honorable Karen Bass.
For nearly one hour in a friendly atmosphere, Mrs. Dominique Ouattara and these two influential congressmen and committed to defending the interests of African countries, reviewed the actions and initiatives of the State of Côte d'Ivoire to end the scourge of child trafficking. Value-added exchanges certainly, which did prevent the e First Lady to pay tribute to Honorable Eliot Engel for his leadership role played within the Congress in the fight against this scourge.
"I have been invited by the US Congress, Mr. Congressman Eliot Engel, who you know is behind the Harkin-Engel protocol and Congresswoman Karen Bass is also very involved in this concern. We have been able to explain whatever Côte d'Ivoire does to fight against trafficking and the worst forms of child labor. These two personalities congratulated us, "said Mrs. Dominique Ouattara at the end of the hearing. The President of the CNS emphasized to her interlocutors that the distinction be made between peasants' children who go with their parents to the famrs after school and who sometimes help their parents with the real child trafficking which is to be combated. Let's point out that Congressman Eliot Engel, from New York, is a strong advocate in the fight against child labor.