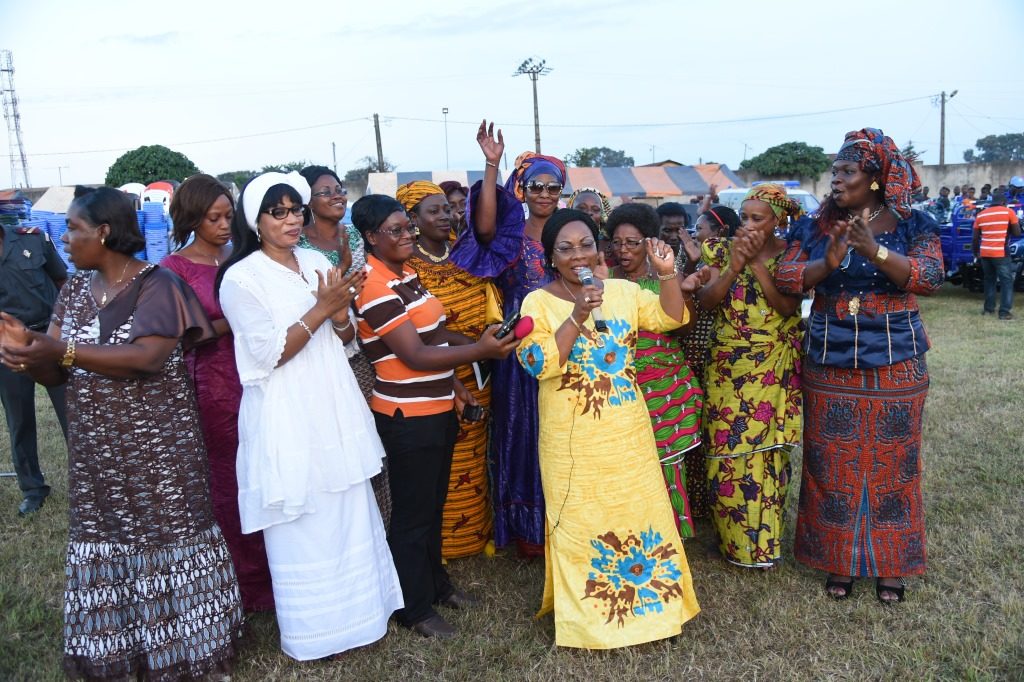 Divo. The native Department of Madame Sylvie Patricia Yao, Chief of Staff to the First Lady, has been the focus of Mrs. Dominique Ouattara's attention thanks to the tour she initiated ahead of the state visit of President Alassane Ouattara in the regions of LOH-Djiboua, Haut-Sassandra and Goh. The envoy of the First Lady has seems to have belied the adage that nobody is a prophet at home. It is indeed to the area she was born in the emissary of Mrs. Dominique Ouattara paid a visit Saturday, afternoon, September 26, 2015, hands full of gifts for her sisters and brothers of Divo Department. On this occasion, Mrs. Patricia Yao Sylvie, on behalf of the First Lady, offered in-kind donations worth 120 million CFA francs to the people. These gifts consist of an ambulance for the urban health center Hermankono-Garo, biomedical equipment for health centers and motorcycles to facilitate movement of the medical staff.
Mrs. Dominique Ouattara has also provided equipment and materials for women's groups and cooperatives engaged in agriculture. Women in several sectors such as trade, hairdressing, sewing and catering have received numerous donations that will enable them to strengthen their activities. Educational materials, maintenance equipment, games and many other gifts have been donated to kindergartens, primary schools, secondary and high schools of the department. School canteens have received many conveniences.
Mrs. Dominique Ouattara has also provided equipment to the transit center for women and children. Disabled people have received, crutches and tricycles. In addition to these donations, Ms. Yao patricia Sylvie revealed that the Support Fund for the Women of Côte d'Ivoire (FAFCI) in Divo increased from 140 million CFA francs to 200 million CFA francs thanks to the state visit. An increase of the budget available to women to finance their micro-projects.
First Lady Dominique Ouattara provides in-kind donations worth 120 million CFA francs for the populations.