Dominique Ouattara supports Adioukrou people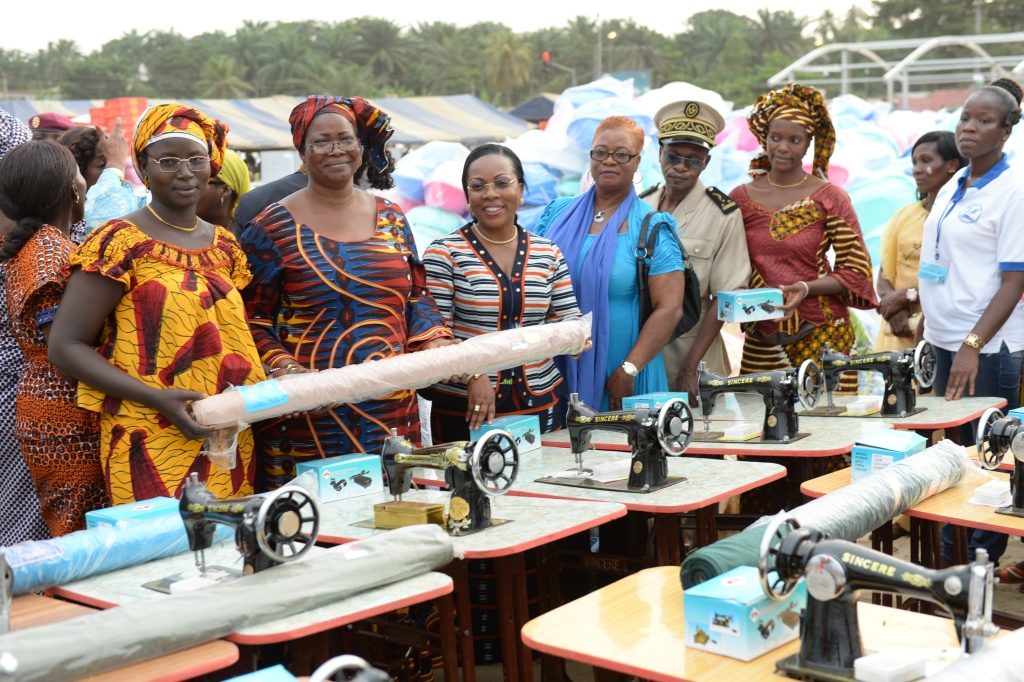 Exceptional mobilization. The leboutou women have demonstrated through the most beautiful manner their gratitude to First Lady Dominique Ouattara. Indeed, ahead of the state visit in the "Grands Ponts" (Large bridges) area, Mrs. Dominique Ouattara has provided important gifts worth more than CFA francs 150 million to the women of Dabou department on Saturday August 1st, 2015. The delivery ceremony of these gifts took place on the Bédié stadium of Dabou, and was attended by Ministers Vicent Lohoues, Jacqueline Oble and René Diby, the administrative authorities of the city and the people. These gifts consist of equipment for cooperatives, women's groups, the traders, the restaurant managers, hairdressers and seamstresses. Mrs. Dominique Ouattara has offered equipment to community centers, nursery schools, high and secondary schools, to the nursery of Dabou and school canteens. The wife of the head of state offered a medicalized ambulance to Dabou Hospital and to several facilities that will enhance the delivery of health care centers in the department. In addition to these in-kind donations, Mrs. Yao Patricia Sylvie has offered cash donations on behalf of the First Lady. Indeed, the emissary of Mrs. Dominique Ouattara has offered CFA 1,700,000 to these populations.
While speaking, Mrs. Patricia Yao Sylvie wanted to bring good news to the women of the Leboutou. Having received initial funding of an amount of CFA francs 50 million under the Support Fund for the Women of Côte d'Ivoire (FAFCI), the department of Dabou benefited thanks to this state visit from an additional CFA francs 100 million. In total, the women of Dabou will benefit from a funding up to CFA francs 150 million of the FAFCI. The news raised cheers. Taking this opportunity, Mrs Patricia Yao Sylvie shared the message of solidarity with her sister Dabou. She reminded the fraternal bonds that bind the presidential couple and Leboutou. And thanks to this link the presidential couple could not forget the department of Dabou. And they held to the reward them through these many gifts. The second message concerned the FAFCI. Mrs. Patricia Yao Sylvie invited the women of the department of Dabou to go and be enrolled at the COOPEC to benefit from this financial windfall. In addition, Mrs. Patricia Yao Sylvie insisted on the fair distribution of these gifts. She hoped that the administrative authorities set up a committee in order to proceed to the distribution of these gifts at the end of the state visit.