Dominique Ouattara visited "Pilar Buepeyo Boseka center" in Malabo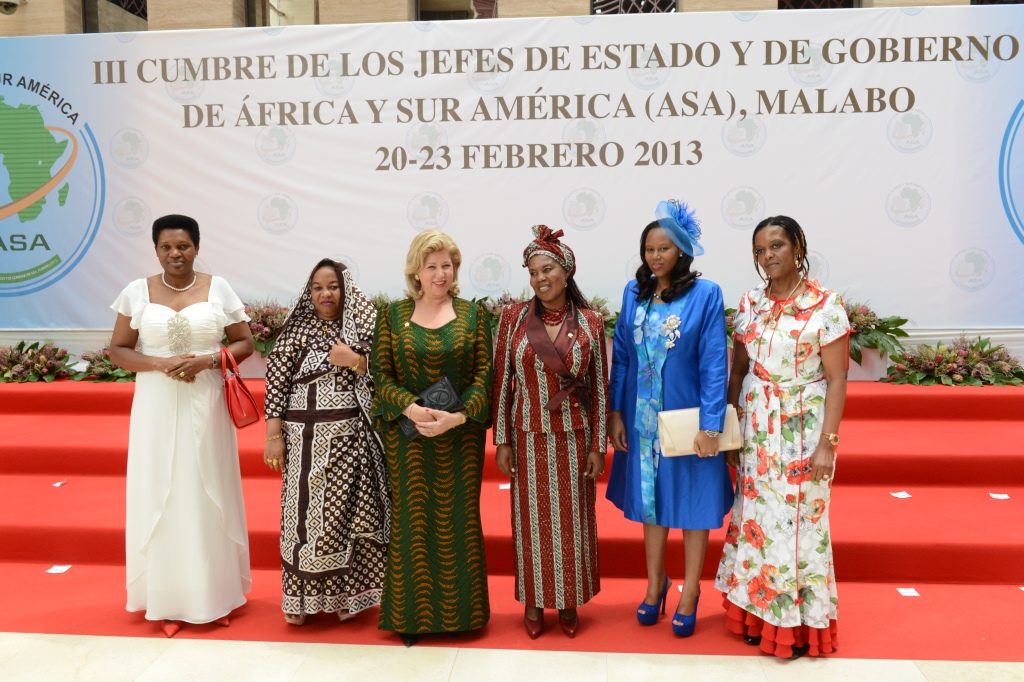 After participating alongside their husbands, at the opening of the third summit of Africa Cooperation Forum and South America, at the conference center in Malabo (Equatorial Guinea) in the beautiful city of Sipopo, the First Lady of Côte d'Ivoire Madame Dominique and her counterparts from Zimbabwe, Burundi, Comoros, Swaziland were invited to lunch by the First Lady of Equatorial Guinea, Mrs. Obiang N'guema. It is a minibus under police escort that First Ladies have joined Sipopo city at the Hilton Hotel, venue of the lunch. On along the route, the hosts of Mrs. Obiang could contemplate the architectural jewel here and there.
After lunch, the First Lady of Côte d'Ivoire and her counterparts headed for the educational center ''Pilar Buepeyo Boseka'' in Campo Yaounde or New building. Here the air was festive. Residents and supervisors held a warm welcome to their illustrious guests, singing and dancing to the menu. each First Lady received a bouquet from residents. Mrs. Obiang N'guema then took the head of the delegation for a tour of the center created by her own initiative: modern classrooms and multimedia rooms, all within a modern architecture. There are more than 400 children from disadvantaged families who benefit educational and social care, from kindergarten to the first year of junior secondary school.
An artistic ballet performed by children and carefully followed ended the visit. "Keep the school as a treasure, we wish you the best," said Mrs. Obiang on behalf of her peers, not without thanking the managing staff for their efforts.
It's worth noting Pilar Buepeyo Boseka whom the center bears the name was Vice-President of the Parliament of Equatorial Guinea and also former Minister of Health. She died in a plane crash in Douala while on a mission.