End of the Free of Charge Immunization Campaign in the South-Comoé: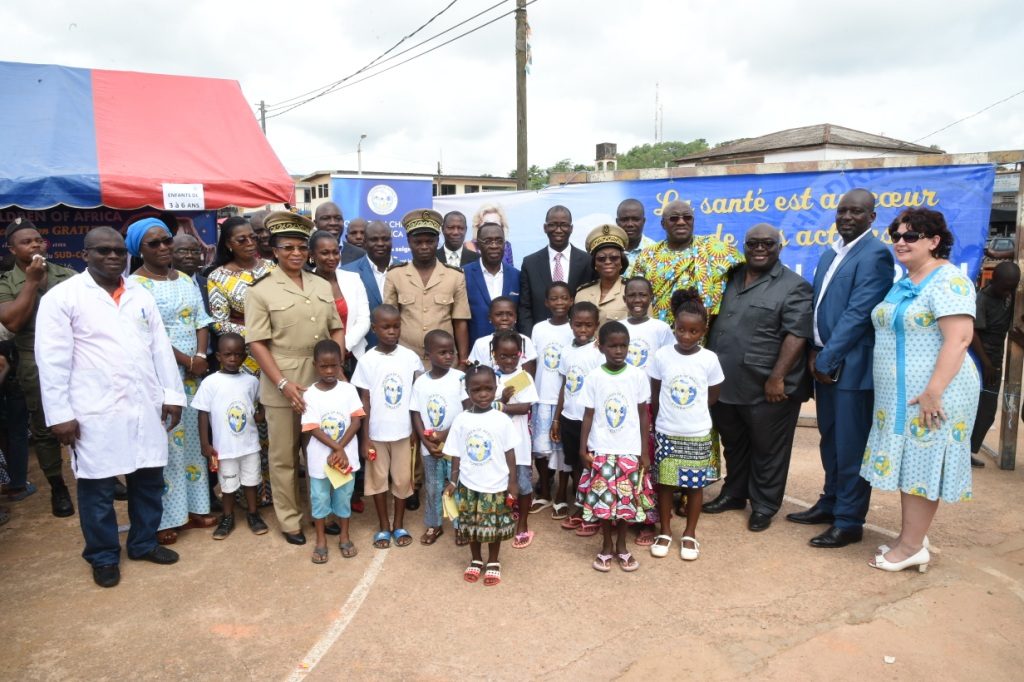 Children Of Africa's free of charge immunization campaign against typhoid fever in the South-Comoé Region took end in Aboisso, on Saturday 21st May 2016, at the Alexis Etche Elleingand square. In fact, more than one thousand (1,000) children of the Aboisso town Council were vaccinated and dewormed against typhoid fever for free by the mobile medical unit of Mrs Dominique Ouattara's Foundation.
Thus, the stage of Aboisso put an end to the humanitarian campaign launched on the last Thursday 12 May in Grand-Bassam by Mrs Dominique Ouattara, President of Children of Africa Foundation. In all, there are eleven (11) towns in the South-Comoé region which enjoy the bounties of the Children Of Africa Founder notably, Grand-Bassam, Adiaké, Assinie-Mafia, Ayamé, Bonoua, Koukourandoumi, Maféré, Noé, Samo, Tiapoum et Aboisso.
In Aboisso, the last step of the programme, the ceremony gave rise to a party. On this occasion, the little children did not sulk their pleasure to commune with the clowns of Bouldegums. Through games and dancing competitions, the children of Aboisso expressed their gratitude to Mrs Dominique Ouattara.
During his speech, Coulibaly Brahima, the Director of Communication of the Children Of Africa Foundation and who was also the representative of Mrs Dominique Ouattara, thanked first the political, administrative and traditional authorities of the South-Comoé region 'who made it possible for the caravan to take place under good conditions'.
The representative of Children Of Africa's President-Founder then recounted the story of the establishment of the Foundation and the different sectors in which Children Of Africa acts. 'Children Of Africa was set up in 1998, but long before, Mrs the First Lady proved that she is committed to humanitarian action. The foundation works in different sectors of activities notably, health, which is one of the priority sector', he said.
Finally, Coulibaly Brahima reminded the special relationship between he President of Children Of Africa and the population of Aboisso in general and the children in particular.