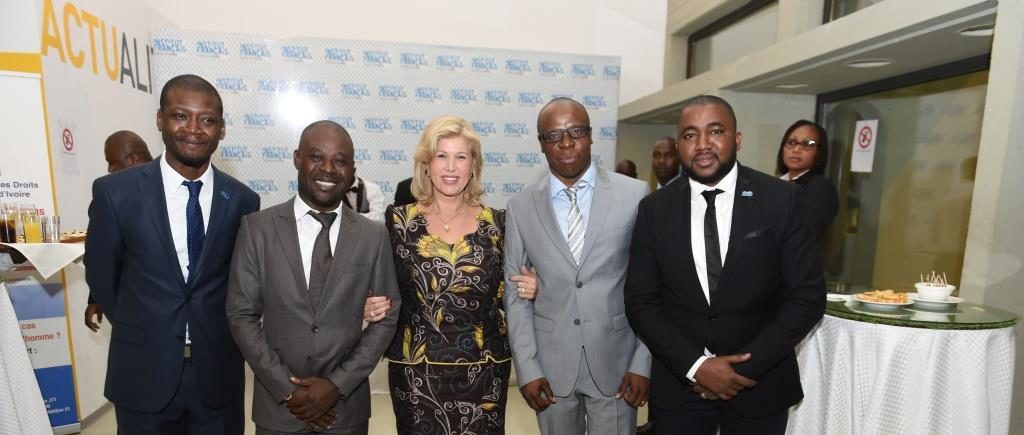 The First Lady, Dominique Ouattara sponsored the launching ceremony of the 10th edition of the Urban Music Festival of Anoumabo (FEMUA), Thursday, March 30, 2017 at the "Institut Français" in the Plateau, the business center of Abidjan.
Under the theme: "Africa, Facing the Challenge of Global Warming", the 2017 edition of the Anoumabo festival aims to raise the alarm bell against the worlwide problem of global warming and the meteoric rise of the desert . A topical subject in view of the generalization of this phenomenon which is prey to the humanitarian and mainly to Africa for several decades. The other aspect of FEMUA is undoubtedly its charitable dimension. Indeed, for this new edition, the benefits of the different shows will allow to offer two (02) primary schools to the cities of Bayekou Bassi and Odienné, the construction of a health center in Loulo and the donation of a housing To a poor family. So many social actions that highlight the humanitarian commitment of the members of this mythic zouglou group.
The godmother of this launching ceremony, Mrs. Dominique Ouattara, First Lady of Cote d'Ivoire and Founder of Children of Africa, has been grateful for the cultural and humanitarian commitment of Traoré Salif known as Asalfo and her "gaous magiciens". "Bravo (…) for your wish to offer two primary schools to our children, one in Gagnoa and the other in Odienné; As well as a health center in the Poro region, with the product of this FEMUA 2017. I am not surprised, Unesco Ambassador dear A'salfo, for your humanism and your kindness Are more to be demonstrated, "she congratulated. The sponsor of the event took advantage of this forum to renew the partnership that exists between FEMUA and the Children Of Africa Foundation under the FEMUA KIDS. Thus for Madame Dominique Ouattara, beyond the purely festive and cultural character, the FEMUA allows the little ones to learn the joy of reading and computer science. "This social action, which has made it possible to raise awareness among children in the Anoumabo neighborhood for reading, but also for the use of computers and the Internet, will be renewed this year. In this context, reading workshops, games and various animations were organized for the greatest joy of the toddlers.