Fight against the worst forms of child labour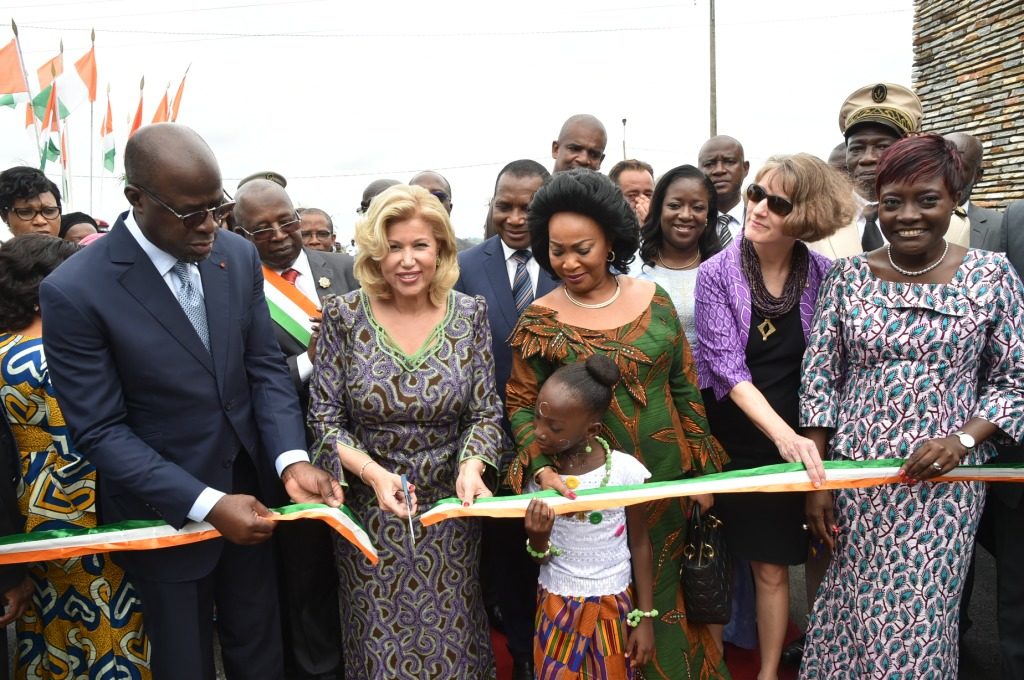 The First Lady, Dominique Ouattara has inaugurated the center for children in distress of Soubré. The inauguration ceremony took place at the center on Thursday, June 07, 2018, in the presence of Mr. Jean-Claude Kouassi, Minister of Employment and Social Protection, Chairman of the Interministerial Committee of fight against Trafficking, Exploitation and Child Labour (CIM), Mrs Mariatou Koné, Minister of Family, Child Protection and Solidarity and Vice-President of the CIM, representatives of the institutions and NGOs engaged in the fight against child labour as well as people of Soubré.
Built by the Children of Africa Foundation, this center is the first of three (03) centers that Mrs. Dominique Ouattara's NGO has planned to build in Soubré, Bouaké and Ferkéssédougou. Its implementation provides an adequate response to lack of a transit and supervision center for child victims of trafficking and exploitation in Côte d'Ivoire before they return to home. It is now possible to properly take care of children rescued from the hands of traffickers.
This first reception center for child victims of trafficking and exploitation of Soubré is a good opportunity to efficiently fight against child labour in cocoa production area. It also shows the commitment of Mrs. Dominique Ouattara to protect children's rights and to improve their living conditions.
The Soubré Children's Center was built on a plot of one hectare. It offers a capacity of 64 beds in total, two dormitories of 32 beds for girls, and two dormitories of 32 beds for boys. It also has executive offices, a health center, as well as several classrooms for training. The center also have a multimedia room, a library, a canteen, a multipurpose room and a sports field. The ceremony ended with a guided tour of the center.
Normal 0 21 false false false FR X-NONE X-NONE /* Style Definitions */ table.MsoNormalTable {mso-style-name:"Tableau Normal"; mso-tstyle-rowband-size:0; mso-tstyle-colband-size:0; mso-style-noshow:yes; mso-style-priority:99; mso-style-parent:""; mso-padding-alt:0cm 5.4pt 0cm 5.4pt; mso-para-margin-top:0cm; mso-para-margin-right:0cm; mso-para-margin-bottom:8.0pt; mso-para-margin-left:0cm; line-height:107%; mso-pagination:widow-orphan; font-size:11.0pt; font-family:"Calibri",sans-serif; mso-ascii-font-family:Calibri; mso-ascii-theme-font:minor-latin; mso-hansi-font-family:Calibri; mso-hansi-theme-font:minor-latin; mso-fareast-language:EN-US;}