First Lady Dominique Ouattara made final tribute to Mrs. Jouhair-Mobio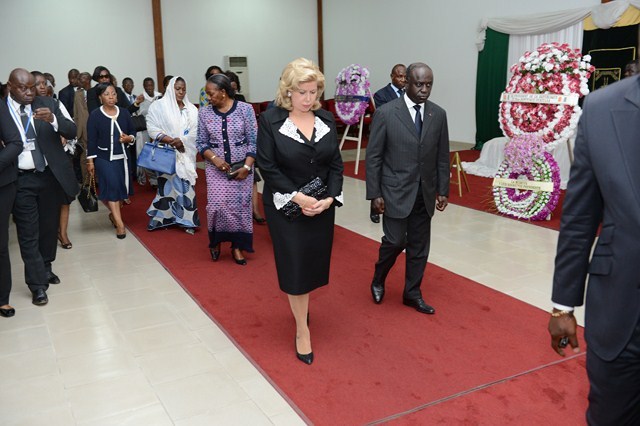 First Lady Dominique Ouattara was on Tuesday, April 23rd, 2013, at the bedside of the Jouhair-Mobio's family at the ceremony for the removal of the remains of Mrs. Loya Mobio Elisabeth, Jouhair'wife. Died on April16th, 2013, the First Lady wanted to pay a final tribute to this activist of the Rassemblement des Républicains (Rally of Republicans (RDR)). Thus, heading a large delegation composed of Mr. Alain Lobognon, Minister for the Advancement of Youth, Sports and Recreation, Marcel Amon Tanoh, Chief of Staff of the President of the Republic, Mrs. Henriette Dagri Diabaté, Great Chancellor of the National Order, and Jeanne Peuhmond, Special Adviser to the President of the Republic in charge of Gender and Social Affairs, Mrs. Dominique Ouattara presented her condolences to the bereaved family at the ceremony.
On this occasion, Chancellor Henriette Dagri Diabaté promoted the illustrious departed to the rank of Officer of the National Order.
Mrs. Rolande Apketo, Secretary General of the non-profit-making insurance organization for Atchans women Development, speaking on this occasion, has expressed all the pain of women in her corporation following the sudden death of Mrs. Jouhair-Mobio.
Mrs. Kaba Fofana, on behalf of the friends of the deceased, spoke in complete agreement with her predecessors. After saluting the memory and commitment of the departed in the fight for the advent of democracy in the country, she expressed the tremolo in her voice all the pain that animated her.
Mrs. Carlton Ahoua Coulibaly, representative of the Secretary General of the RDR, in turn, thanked the departed for the fight she made in the name of change and democracy.
The ceremony ended with a funeral prayer. The mortal remains of Mrs. Jouhair-Mobio has been transfered to Williasmville cemetery where she rests from on in peace.