First Lady provides food and non-food supplies to people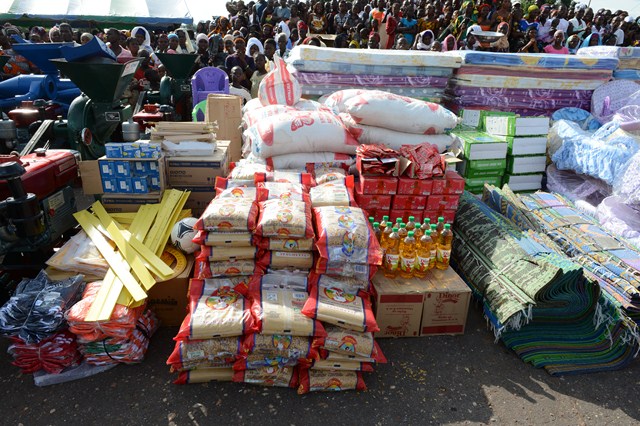 First Lady Mrs. Dominique has provided food and non-food items to Danané people.
First Lady Dominique Ouattara offered on Saturday, May 27th, 2013, prior to the state visit of President Alassane Ouattara, donations worth nearly CFA 100 million to Biankouma, Danané and Sipilou people. Thus, to the women in these communities, she offered six huskers and mills, 30 field pulverizers, 100 watering cans, 500 grinders, 500 machetes, 50 wheelbarrows. In the area of health, she gave 10 delivery tables and 15 gynaecological examination tables, 25 Moses baskets, and 125 antennal care inciting kits. In the social field, the First Lady offered 2 stoves, 2 freezers and 8 sewing machines. For primary schools, she offered 50 geometric sets, 25 cartons of chalk, two soccer uniforms and two footballs. The First Lady has not forgotten school canteens in the region. She offered 300 plates, 300 spoons, 50 carafes, 10 cans of tomatoes pasta, 25 cartons of pasta, 2 cartons of oil and 35 bags of 50 kg rice to school canteens in the region. And to early childhood centers, the First Lady has offered 30 mats and 100 chairs.
Mrs. Sylvie Patricia Yao, Chief of staff of the Office of the First Lady, delivered Dominique Ouattara's message of solidarity to the people who stormed the different town halls of Biankouma and Danané. Then, she said that these donations are ahead of the state visit of the presidential couple in the coming days in the region. In addition, the distinguished guest of the Tonkpi populations invited women to enrol in the Support Fund Program for Women of Côte d'Ivoire (FAFCI), which is a funding program for women's projects with a capital of one billion CFA francs. She then revealed that Mrs. Dominique Ouattara will hand over, on May 2nd, 2013 in Man, the first checks for women in this framework. A boon for the18 Mountains region women because it is their region the First Lady has selected to launch the implementation phase of the program. In addition, Mrs. Patricia Yao Sylvie invited Biankouma and Danané populations to enroll in the dynamics of the campaign against child labor.