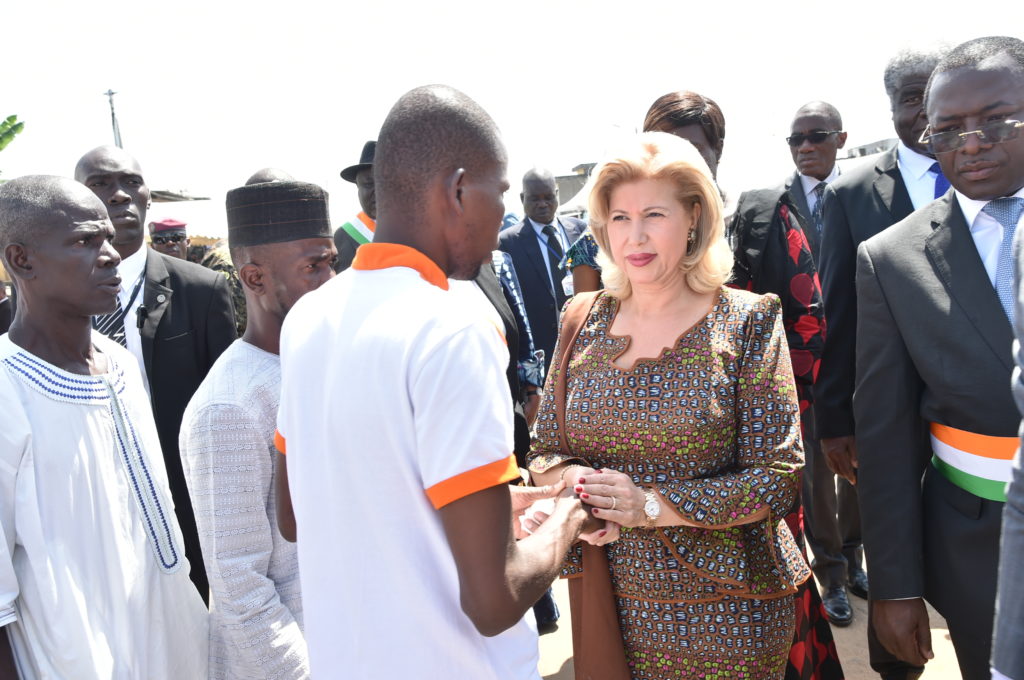 Like Cocody, the commune of Attécoubé paid a heavy price following the heavy rains that fell last week on the District of Abidjan and within the country. Thus, in the commune Attécoubé, six (06) families were bereaved and several people have lost everything due to the tragedy. As in Cocody, the day before, Mrs. Dominique Ouattara, First Lady of Côte d'Ivoire, has personally expressed her support and compassion to the families of this commune. Also, at the head of a strong delegation, the wife of the Head of State went to Attécoubé Tuesday, June 26, 2018 to support her brothers and sisters who live such painful hours .
It is the terminus of the bus 04 which hosted the framework of this ceremony which recorded the participation of several personalities including Mrs Mariatou Koné, Minister of the Woman, the protection of the Child and the Solidarity.
And as usual, it is the hands laden with presents that Mrs. Dominique Ouattara went to Attécoubé. Thus, it has offered large donations of food and non-living to the affected populations. In addition to these donations in kind, she offered the sum 14 million CFA francs to the population of which 05 million CFA to bereaved families, 03 million CFA to the families affected, 02 million CFA to women, 01 million CFA francs to the chiefs customary, CFAF 01 million to religious leaders, CFAF 01 million to community leaders, CFAF 500,000 to disabled people and CFAF 500,000 to the organizing committee of the ceremony.
Taking the floor, the First Lady expressed her sorrow at the floods caused by the torrential rain of last week. "The trauma experienced by populations, particularly Attécoubé, is unprecedented. The heavy rains have left behind entire families in utter destitution and mourning, "she said.