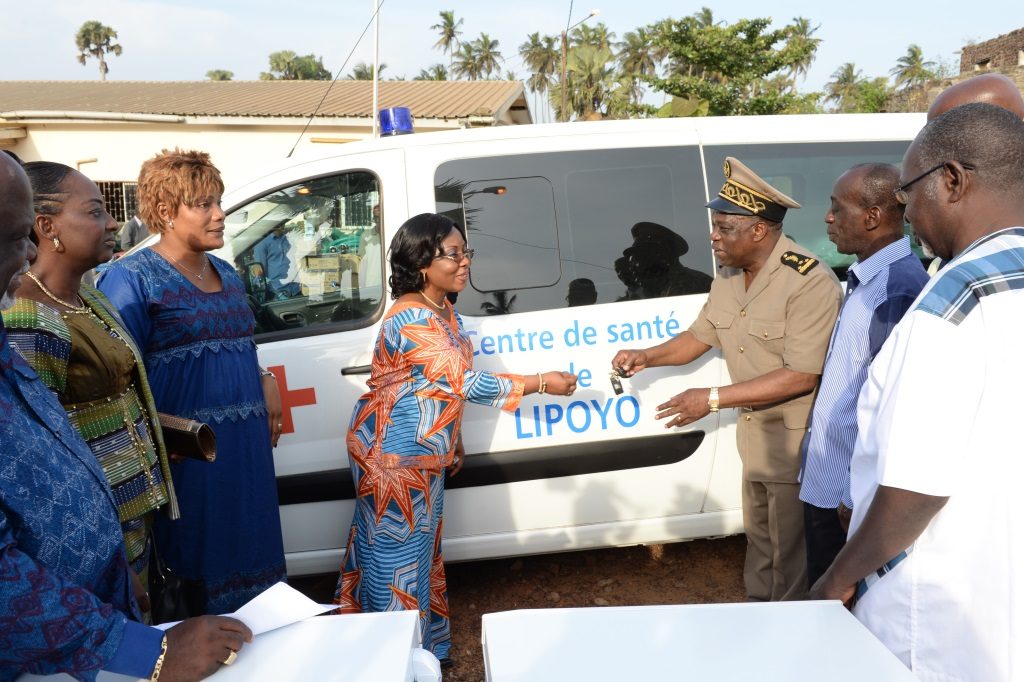 Prior to the state visit President Alassane Ouattara will conduct from March X04 to March 04 2015 the District of Bas-Sassandra, the First Lady Dominique Ouattara decided, as usual, to provide support and assistance the populations of this region. Thus, the First Lady has sent members of her team, their hands full of gifts for these populations. It is by the Gbôkle region Mrs. Dominique Ouattara's emissaries began their journey, on Friday, February 27, 2015. Moreover, it is the commune of Fresco which welcomed the delegation of the cabinet by the First Lady led Ms. Yao Patricia Sylvie, her Chief of Staff.
During this stage, the enclosure of the Town Hall proved overcrowded facing the mobilization of the population of the city of Fresco. To them, the First Lady has offered in-kind and cash donations worth FCFA 116 million. Several donations were provided to the populations including an ambulance to Dahiri Health Center.
In the afternoon in Sassandra, the envoys of the First Lady Dominique Ouattara offered in-kind donations worth CFA francs 135 million.To the populations of these two localities, Mrs. Yao Patricia Sylvie announced the arrival of the President of the Republic and his wife on Friday, February 3rd. She asked populations to reserve them a warm welcome.
She recalled that, ahead of state visit President Alassane Ouattara will pay to the District of the Bas-Sassandra that the First Lady decided as usual to support the populations. She precised that in this framework, the First Lady took into account several business sectors of women. Indeed, women's cooperatives and associations received agricultural equipment. Women's training centers have also received equipment to enable more women to be trained. The schools and colleges of Fresco and Sassandra received computer kits and equipment.