Health Care for "Mother/Child" : the case of Necker Hospital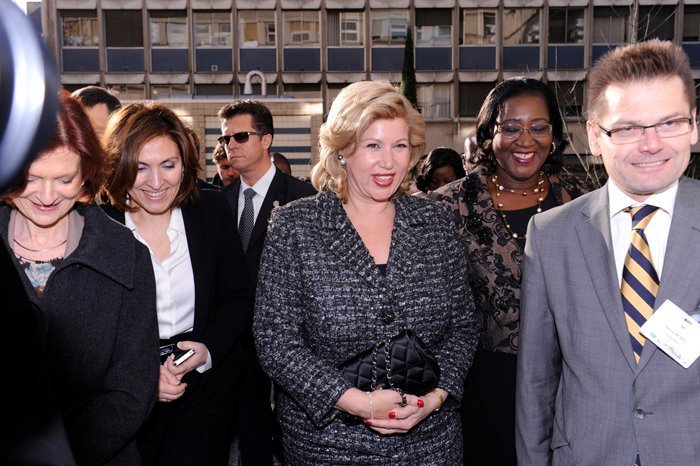 After
the one-on-on meeting on Thursday,
January
26th
, with Carla Bruni Sarkozy in the private apartments of the Elysée Palace, Mrs. Dominique Ouattara, gave priority on her agenda to the visit of Necker University Hospital for sick Children
at 149, rue de Sèvres (Paris 15th
arrondissement
), which has more than 200 years of experience.
In the afternoon of Friday, on January 27th, the last day of the official visit of the Ivorian No. 1, accompanied by the French Secretary of State for Health, Mrs. Nora Berra and Ivorian Minister of Health and Fight against AIDS, Family, Women and Children, Education and Ambassador of Côte d'Ivoire to UNESCO, Mrs. Dominique Ouattara. The delegation was welcome to the clinic by the primary responsibility of Necker Hospital Robert Debré to the clinic. In the mezzanine, room, Serge Morel, the Director of the hospital presented his hospital complex, its peculiarity in support of the "mother-child" couple and especially the LAENNEC project.
It consists of a new building dedicated to the mother-pair with 400 and cribs (including 100 intensive care beds and intensive care), 60 external consultation rooms, 60 operating rooms, an imaging equipment of high quality,
1,800 health professionals serving kids.
After that exposé, Mrs. Noura Berra reaffirmed France's commitment to always be Côte d'Ivoire and announced the resumption of full health cooperation between Paris and Abidjan.

The Minister of Health, Prof. Teresa N'dri Yoman noted the efforts of the Ivorian government for mother and child

health care. The LAENNEC project received most attention from the First Lady of Côte d'Ivoire who committed herself to providing Ivorians a hospital dedicated specifically to the mother and the child.
"This project gives us ideas for our future mother-child Children hospital by Africa Foundation that I run. This meeting allows us to enrich our project and clarify certain ideas that were previously unclear, "commented Mrs. Dominique Ouattara. The First Lady and her delegation then visited the general pediatric department and ended the visit by recreation space of the complex space. Which means even sick, children need their heavenly environment.