HIV / AIDS Access to Screening and Treatment for Adolescents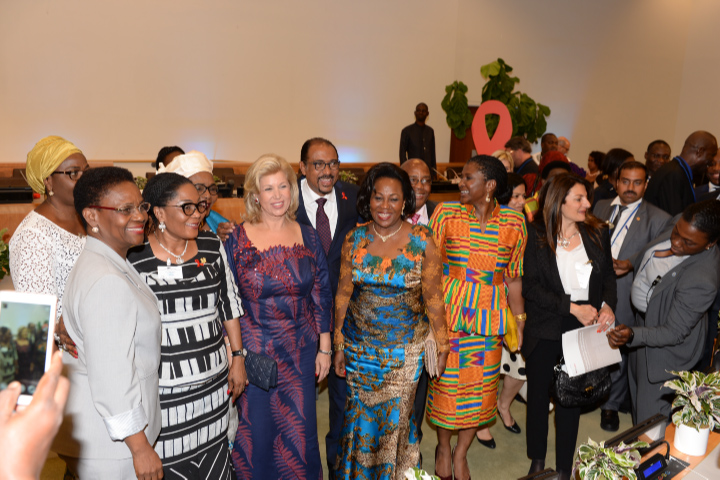 "Getting out of the silos: empowered adolescent girls and young women benefiting integrated service." Here is the theme on which the Organization of African First against HIV / AIDS (OAFLA) and its partners including UNAIDS have been working in Wednesday afternoon, June 8, 2016 at the UN headquarters in New-York.
For this great event, OAFLA overcame the calling in of its "troops". The First Ladies came from Côte d'Ivoire, Ghana, Panama, Namibia, Haiti, Niger, Burkina Faso, Congo Brazzaville and Niger. Each one came to share her innovative policy, her commitments and actions to mobilize stakeholders and the resources for adolescents and youth. A subject matter for Mrs. Dominique Ouattara, First Lady of Côte d'Ivoire and Special Ambassador for UNAIDS for the Elimination of Mother to Child transmission of HIV and for the Promotion of pediatric treatment. The wife of the Head of State wished to share innovative solutions of Côte d'Ivoire to solve the issue of access to screening and treatment services for youth and adolescents.
 "(…) We must redouble our efforts in prevention and access to ARV treatment for youth and adolescents, especially girls, to jeopardize the future of our respective nations, since young people are the spearhead for the development of our country, "noted the First Lady of Côte d'Ivoire. For Mrs. Dominique Ouattara, there is a need to ensure adolescent girls good health, equitable access to education and training and assistance to financial independence. As for the mothers, according to Mrs. Dominique Ouattara, there is a need to facilitate access to sexual and reproductive services.
The solutions of the Ivory Coast But how to achieve that? To this question, the Special Ambassador for UNAIDS provides innovative answers. "We can overcome by creating a global coalition: Governments, technical and financial partners and civil society," the special ambassador of UNAIDS proposed. Therefore, she recommends the combination of prevention and HIV treatment services in health facilities, the promotion of screening among young people and adolescents, the proliferation of community services including more girls, the involvement of local officials through the "Cities and HIV"  initiative and finally through advocacy to mobilize more financial resources. In conclusion, the Ivorian First Lady, proposed that 2017 to be declared the "HIV Prevention Acceleration among young girls and teenagers, through 12 months of activism in favor of their overall care"