Improvement of the Living Conditions of Ivoirians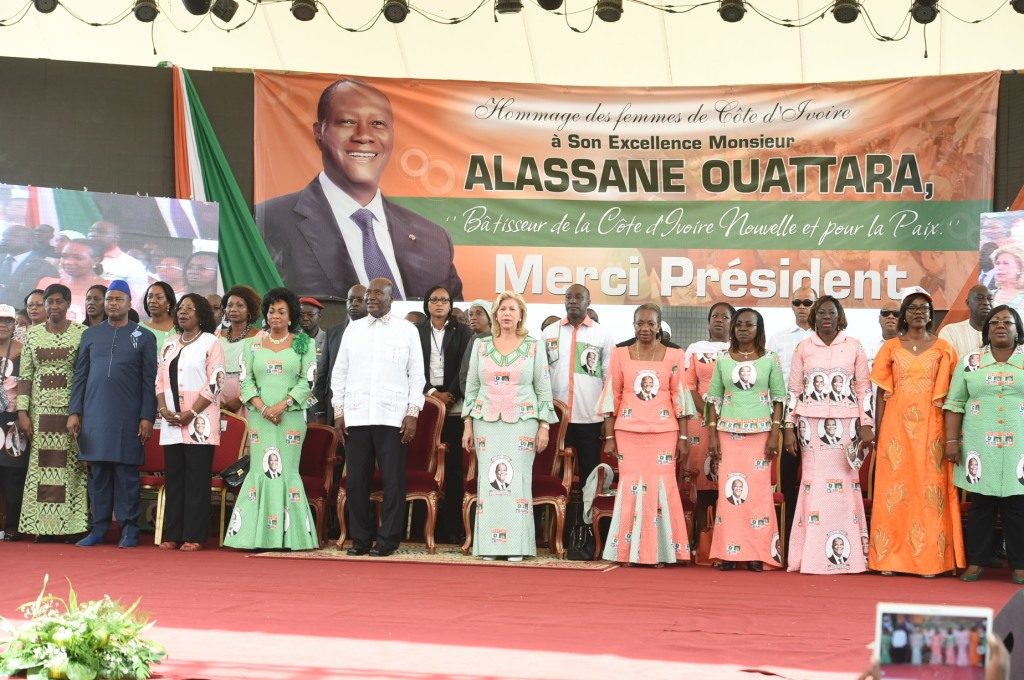 An idyll between the women of Côte d'Ivoire and President Alassane Ouattara. It is the image that stems from the tribute and support ceremony to the President of the Republic, organized by the women of Côte d'Ivoire, on Saturday, April 08th, 2017 at the "Palais de la Culture" of Treichville. They were thousands from all parts of the country, storming the building for the occasion transformed into a meeting place. For women, a single slogan of the day: to testify their unwavering support and recognition to the Head of State for his actions in favor of the well-being of the Ivorians and the development of the country. And this, after the waves of strikes that shook the country a few months ago.
A praiseworthy project that convinced Dominique Ouattara, First Lady of Côte d'Ivoire to accept the presidency of this ceremony. The wife of the head of state took advantage of this forum to express her pride to women for this undertaking. For her, the mobilization of the women of the country testifies not only the special ties that bind them to President Alassane Ouattara, but also to the recognition they give him for the important work he has accomplished in such a short time for the country. "(…) Celebrating President Alassane Ouattara means a recognition of the important work he is doing in serving our people, according to the mandate you have given him. I would like to express my pride in being one of you, one of these generous Ivorian women, committed to working for the community, "said the First Lady. This recognition ceremony, for Mrs. Dominique Ouattara, is rightly appropriate because it allows women to give their opinion on the fate of the country. "You are right to celebrate the President, to show the world that you women, you have your say on the great changes that are taking place every day in your life and in the daily life of your families. And in this, I am not surprised because the women of Côte d'Ivoire are wonderful, frightful and determined, "congratulated Mrs. Dominique Ouattara. And to give a response to women, the wife of the head of state Alassane Ouattara enumerated some qualitative improvements that allowed the country to reposition itself on the international scene under the term of President Alassane Ouattara.