In preparation for the state visit in the Mé Region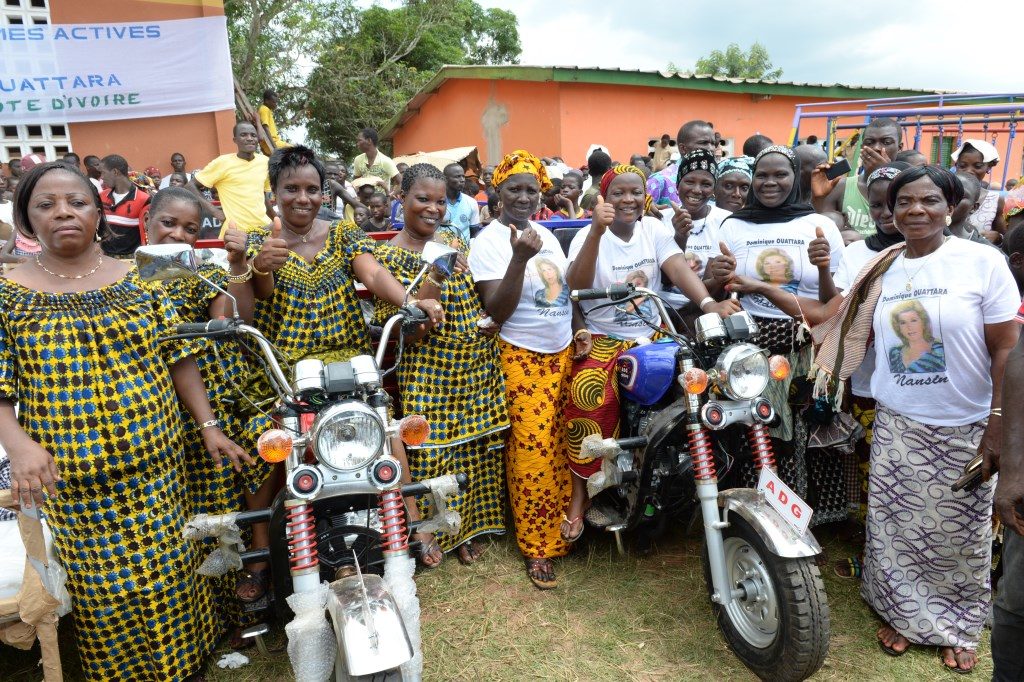 17 years ago, the population of Bécédi Brignan were awaiting for their ambulance. The long wait for this sub-prefecture of the department of Adzopé ended this Sunday, May 3rd, 2015 in a great manner. Indeed, ahead of the state visit of the President of the Republic Alassane Ouattara in the Mé region from the next May 8th to May 9th, the First Lady Dominique Ouattara gave gifts in kind and cash worth CFA francs 66 million to the people of this locality, during a ceremony attended by executives including Patrick Achi, Minister of Economic Infrastructure; N'Doli Raymond Yapi, Mayor of the town of Kumasi; Yapi Florent, Chief of the Protocol of the First Lady and the people of this locality. The donation ceremony was held in the overcrowded stadium of the village.
During the presentation of Mrs. Dominique Ouattara's gifts, the ambulance provided to Bécédi Brignan health center has made populations leap for joy. The reason for this joy is simple. Indeed, since 17 years the people of Bécédi Brignan have been awaited the opportunity to have an ambulance. Here it is today thanks to the generosity and altruism of Mrs. Dominique Ouattara. In addition to the gift of the ambulance that focused passions, the First Lady also offered agricultural machinery and equipment for and women's cooperatives and groups. A godsend for women whose main activity is agriculture. Hairdressers and seamstresses received materials to strengthen their business. The First Lady has not forgotten the kindergartens, primary schools, secondary schools and high schools in the sub-prefecture. Indeed, she offered benches tables; persisglass chairs; waste bins; rakes; football team jerseys and footballs to primary and secondary schools.
To the kids in the nursery schools, she offered swings; slides; small chairs; small wooden horses; tablets as well as mats. School canteens have also received equipment. Bécédi Brignan health centers have received ambulance; of hospital beds; mattresses; delivery tables; Baby cradles; care carts; boxes of dressing and other equipment to strengthen their technical platform. Finally, people with disabilities received textbooks tricycles. The value of these donations in kind: 65 million CFA francs. In addition to these in-kind donations, the First Lady, Mrs. Dominique Ouattara has offered the sum of one million CFA francs to the people. These in turn have offered a bull; rams; loincloths and much food.
Dominique Ouattara provided donations worth 66 million CFA francs to the populations of Bécédi Brignan