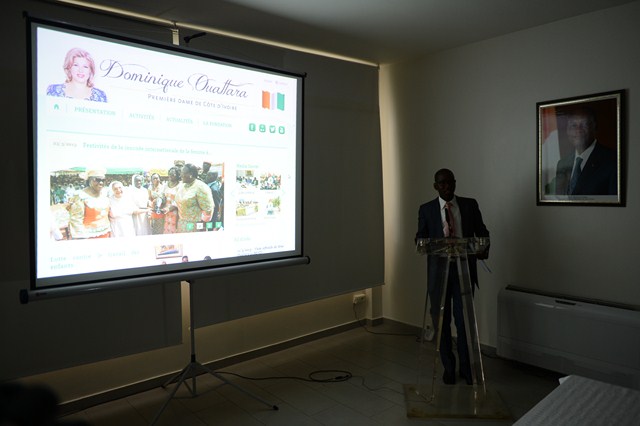 The Head of Communications presenting First Lady Mrs. Dominique Ouattara 's website
First Lady Dominique Ouattara launched on Thursday, April 18th , 2013 at her office in Cocody, her website. www.dominiqueouattara.ci. That's the email address of the new communication designed to deliver the First Lady's communication strategy an internet age perspective. With a dominating green color,''dominiqueouattara.ci is a dynamic, airy and bilingual interactive website that will allow internet users worldwide to follow daily the various activities of Mrs. Dominique Ouattara.
At the launch of this new tool that recorded the presence of Mr. Raphael Lapké, president of the National Press Council (CNP), Mrs. Touré Masséré, Communications Advisor to the President of the Republic, Mr. Hamed Moussa Traoré, President of the National Union of Journalists of Côte d'Ivoire (UNJCI) and many other key figures in communications, Mrs. Sylvie Patricia Yao, Chief of Staff of the First Lady's Office, lifted a corner of the veil on the reasons why this website is created. According to Mrs. Patricia Yao Sylvie, the First Lady attaches paramount importance to communication and media. That's the reason why has she decided to provide Internet users a website. In addition, the First Lady collaborator said it is important to make Dominique Ouattara's commitments known worldwide. That's what made it possible to create and launch this website. Ibrahim Coulibaly, Head of Communications of the First Lady, while presenting the website of the First Dame said that it's worth noting that this website has links that allow users to redirect on Twitter, Youtube, Facebook, Fliker and the First Lady. In addition, these links allow users to also visit the website of Children of Africa Foundation and the website of the Presidency of the Republic. The numerous guests gathered for a cocktail at the end of the launch.