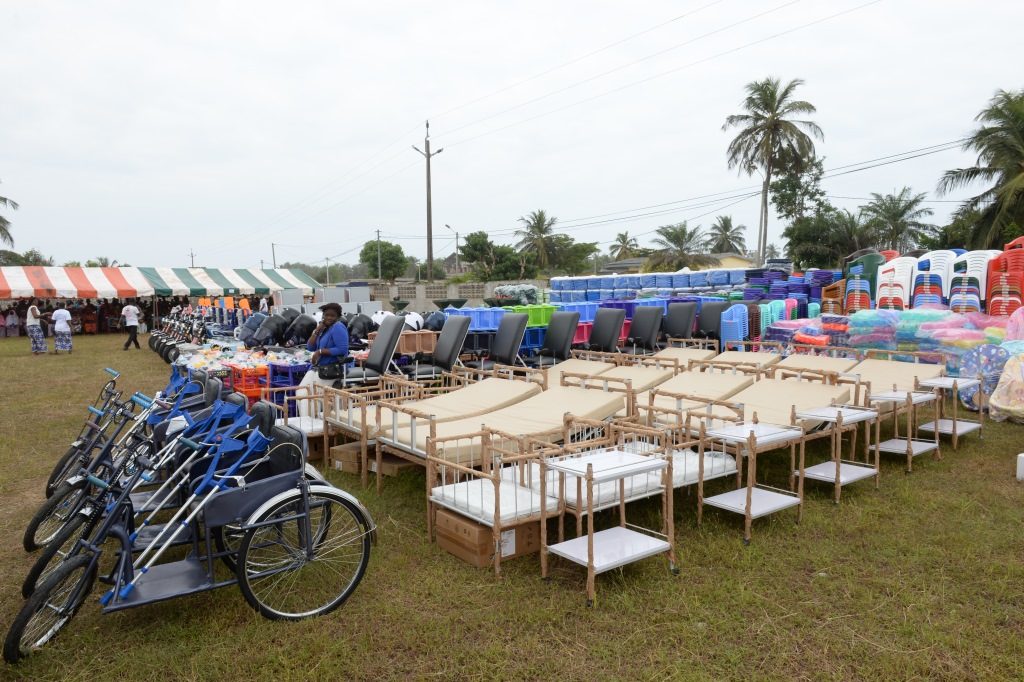 After Grand Lahou and Dabou, the members of the cabinet of the First Lady Dominique Ouattara have visited, Sunday, August 2nd, 2015, the populations of Jacqueville. Jacqueville, a municipality that remained long landlocked from the rest of the country, has got out of its lethargy, Son aturday, March 21st, 2015 with the inauguration of the "Philip Gregory Yacé bridge " that connects it to the rest of the country. Taking advantage of the state visit to the "Great Bridges", the populations of this town have benefited from Mrs. Dominique Ouattara's donations. Donations in quality and quantity with a value over CFA 100 million that will enable the town and people to fight against poverty by strengthening their activities. Indeed, these in-kind donations composed of equipment for women's cooperatives and groups, restaurant managers, traders, hairdressers and seamstresses. Equipment has also been offered to the community social center, school canteens, primary and secondary schools to improve students' study environment. In the area of health, Mrs. Dominique Ouattara has offered an ambulance and biomedical equipment to strengthen the care service of the general hospital of Jacqueville. Disabled people have finally received crutches and manuals tricycles to facilitate their movement. In addition, the envoy of the First Lady has offered on behalf of Mrs. Dominique Ouattara CFA 1,200,000 to the populations of Jacqueville.
The daughters and sons of Jacqueville headed the Great Chancellor, Madame Henriette Dagri Diabaté wanted to honor in the best manner all their gratitude. Indeed, mobilized in large numbers in the confines of the town hall, they have through the voice of Madame Henriette Dagri Diabaté thanked the Presidential couple for their generosity.
"(…) God bless our sister and daughter Dominique Ouattara. Yesterday we were together. (…) I would like to convey the thanks of the entire population of Jacqueville. And tell her that we're wait (Editor's note, Mrs. Dominique Ouattara) firmly. She promised to come to Jacqueville. I'm sure she will keep her promise. She will bring on this occasion many gifts. It is with great emotion that I stand up to say thank you. And tell her that our bridge is open to her. She can therefore come when she wants. (…) ", Madame Henriette Dagri Diabaté, Grand Chancellor of the National Order thanked.
The FAFCI: A funding of CFA francs 120 million available at the Coopec of Jacqueville