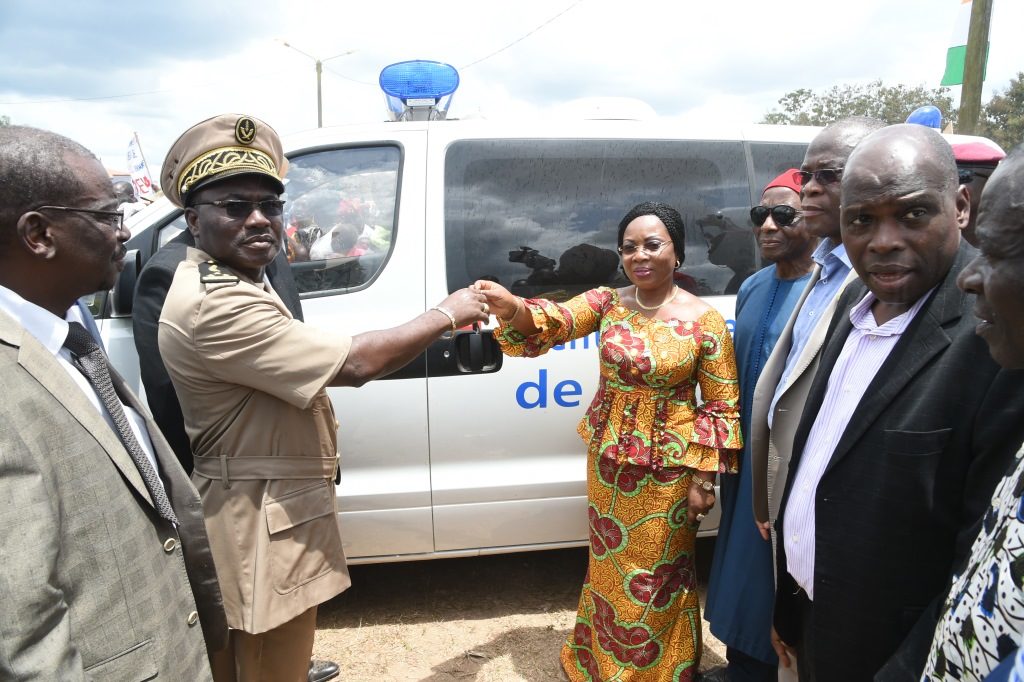 After Oumé and Vavoua, the city of Lakota is the second stage in the LOH-Djiboua region of the tour initiated by Mrs. Dominique Ouattara in favor of the state visit, to welcome the emissaries of the First Lady. In the City of the Elephants, it is the locations of the Town Hall that provided the venue for the organization of the delivery ceremony of the gifts of the wife of the head of state.
Lakota populations held on this occasion, to express their appreciation and attachment to the presidential couple. And in the most beautiful manner. Thus, they massively stormed the ceremony venue to commune with the emissaries of Mrs. Dominique Ouattara. It is therefore a mobilization of feast days that the members of the cabinet of the First Lady Dominique Ouattara have met at the ceremony. The heat of the sun could not blunt the desire and determination of Lakota people to show their love to Mrs. Dominique Ouattara.
The wife of the head of state was keen to let her heart talk like in Oumé, the day before. Mrs. Sylvie Patricia Yao, Chief of Staff of the First Lady on behalf of Mrs. Dominique Ouattara, gave in-kind donations worth 110 million CFA francs to the people of Lakota Department. These gifts are composed essentially of equipment and materials to strengthen the activities of women in the fight against poverty. Thus, the emissary of the First Lady offered agricultural equipment to groups and women's cooperatives in the department. The women engaged in trade, hairdressing, fashion and gastronomy have not been forgotten. Indeed, they have also received equipment to enable them to be more independent. Always concerned about the well-being of women, Mrs. Dominique Ouattara has offered equipment for women's centers and social centers. In addition, Mrs. Dominique Ouattara has offered games, teaching materials and maintenance products to kindergartens, primary schools, secondary schools and high schools of the department. The icing on the cake was the donation of an ambulance to Niabezaria's health center. In addition to the donation of the ambulance, Mrs. Dominique Ouattara has offered biomedical equipment to the health centers of the Department and some means of transport such as motorcycles to nurses of the health facilities. Finally, she offered crutches and tricycles for disabled people.