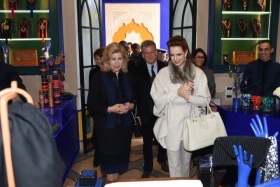 This is a scent of exoticism and mysticism that gives off of the hectare of the "Jardin Majorelle" of Marrakech. Almost lost among the countless homes, this hidden gem on rue Saint Yves Laurent Boulevard Yacoub el Mansour located in Gueliz district endless delights.
It is in this magical environment of rare beauty that her Highness Lalla Salma invited early this Wednesday afternoon, January 21 her famous host the First Lady of Côte d'Ivoire, Mrs. Dominique Ouattara. Welcomed by Quito Fierro, secretary general of the Jardin Majorelle Foundation and Soraya Abid, Executive Director of the institution, the two personalities have begun a two-hour tour of this exotic paradise. It all starts with the garden and the Secretary General of the foundation that acts as guide. A magical and colorful landscape opens as soon as visitors enter the entrance. According to the guide, at the beginning of this adventure was Jacques Majorelle, son of the famous cabinetmaker Louis Majorelle in Marrakech arrived in 1919 to pursue his career as a painter.
Between explanations, comments, Her Highness Lalla Salma and her host have time to contemplate some of the 290 plant species that embellish the scene. The visit continues within the Berber Museum (former painting studio of Jacques Majorelle) inaugurated on 3 December 2011 by King Mohammed VI. In this ethnological museum, Mrs. Dominique Ouattara got an idea of the rich heritage of the Berber people, more than 600 objects collected by fashion designer Yves Saint Laurent and his companion Pierre Bergé. These are the two people who saved this garden in 1980 by buying it to a recipient who acquired it in order to build villas. Even better, they kept the garden open to the public. It is this work that the Foundation Majorelle Garden continues. "The greatest work of the Jacques Majorelle remains probably this garden, a true masterpiece that continues to capture, fascinate and delight its visitors, since its acquisition and its restoration by Yves Saint Laurent and Pierre Bergerie Yves Saint Laurent in Paris, which continues the activity", the Secretary General of the Foundation Majorelle Garden forcefully and enthusiastically explained.