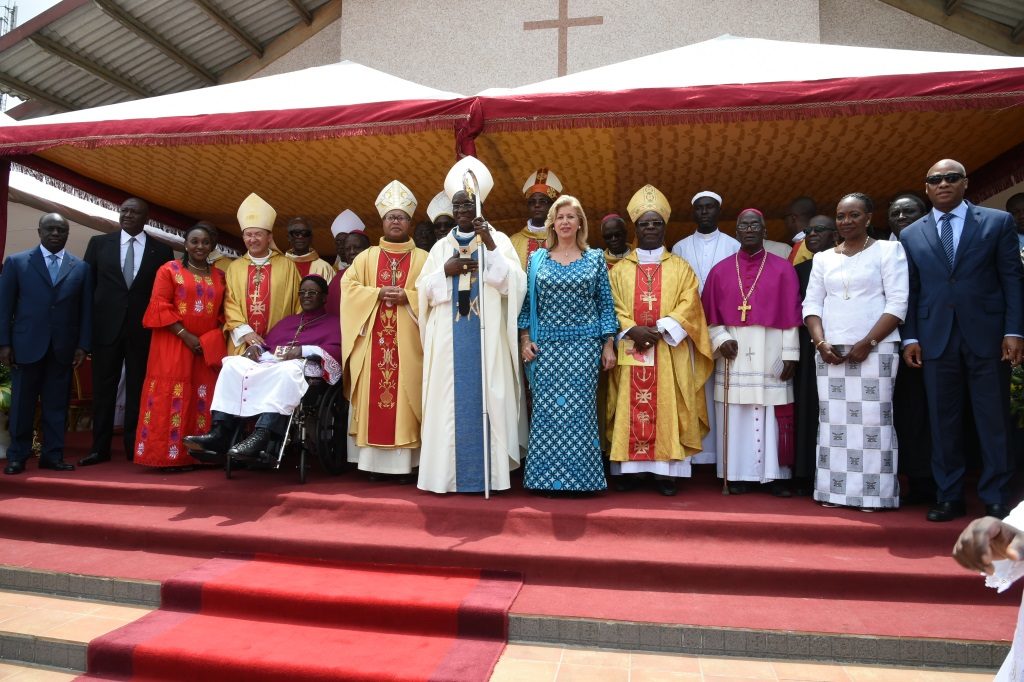 The Parish of St. Pierre of Blockauss, a beautiful village of Abidjan, located along the lagoon Ebrié, lived an exceptional event this Saturday, August 1st, 2015. It could not host the crowd, on the occasion of the celebration of the Mass of thanksgiving, devoted to the ranking of His Eminence Jean-Pierre Kutwa to the rank of Cardinal by Pope Francis.
The First Lady, Mrs. Dominique Ouattara, a devout catholic Christian, representing the President of the Republic, was there to support the man of God, like hundreds of Catholic believers who have also made the trip to honor this happy event, that no one wanted to be told.
And obviously very moved Mrs. Dominique Ouattara has lifted a corner of the veil on the meaning of her presence at this Mass: "I came to represent the President of the Republic, in this Mass of thanksgiving, to support, our friend and brother, Cardinal Jean-Pierre Kutwa, and I am very happy and very moved to be here in Blockauss after so many years, and to see my Church. It was warm, it was moving. I am very happy for coming. Thank you very much to all the Blockauss community, "she said at the end of the ceremony.
In addition to the physical presence of the First Lady and her illustrious delegation, the presidential couple has let their heart, as usual in such circumstances. Thus, the Head of State and his wife handed an envelope to the top of the Catholic Church Dignitary of Côte d'Ivoire to give a particular note of cheerfulness to this Mass of thanksgiving, which was quickly turned into a popular festival when the First Lady set her feet on the sandy soil of Blockauss.
In return, the man of God, His Eminence Cardinal Jean-Pierre Kutwa wished to express his gratitude to the Presidential Couple. "After saying my gratitude to the Lord, I would like to turn to you, Madam First Lady, as well as to your husband, to thank you for the friendship and fraternity with which you cover me. Thank you for your great contribution to the construction of the Church of Blockauss which you attended when you were our neighbor. May God put on you a strong hand in the exercise of your mission to lead the country, "he warmly thanked while invoking the grace of God for the presidential couple. The Cardinal also particularly addressed the First Lady, asking the Creator of heaven and earth to grant her not only grace but also inspiration for acts and words.