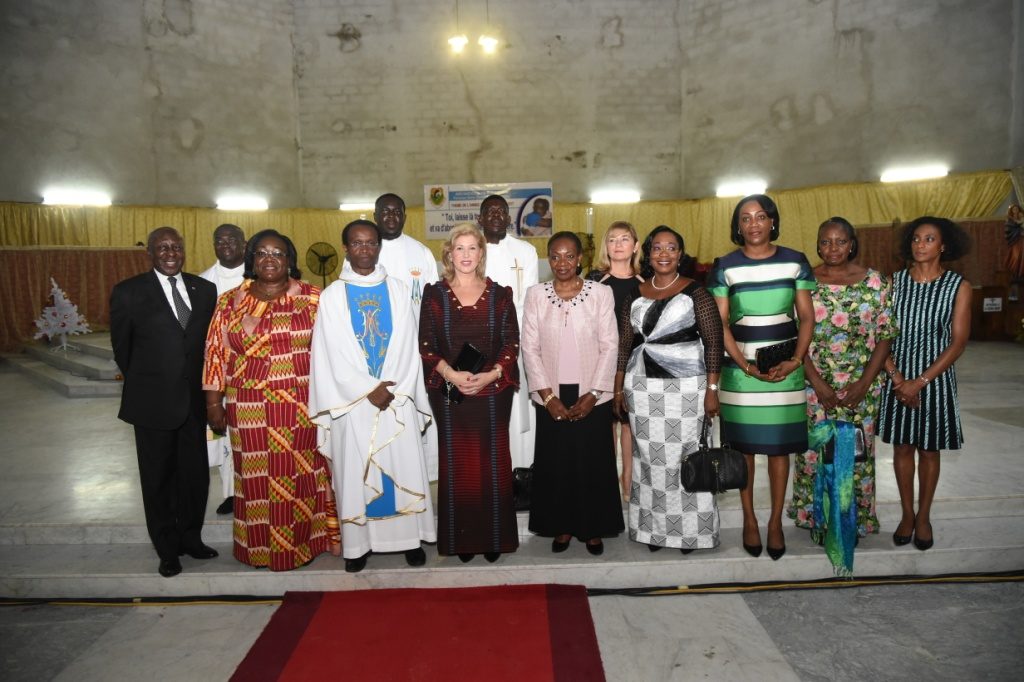 The First Lady, Dominique Ouattara celebrated the Mass of the Nativity, on Saturday, December 24th, 2016, at the Notre Dame Parish of the Tenderness of the Riviera Golf. During this Christmas Mass, the wife of the Head of State was accompanied by Mrs Henriette Dagri Diabaté, Grand Chancellor of the National Order and Mrs Anne Désirée Ouloto, Minister of Urban Sanitation and Sanitation. A moment of solidarity and sharing that the presidential couple wanted to share with the members of this community. To this end, she offered $ 10 million to the parish for the completion of the work of the church. A gesture strongly praised by the first leader of the Church, Father Norbert Eric Abekan.
In return, the parishioners also offered presents to the First Lady. After the Mass, the First Lady, Mrs. Dominique Ouattara, was kind enough to give her opinion on the message delivered on the occasion of this Mass by Fr. Norbert Abekan. "This is a very important message. He invited men to love one another. It is a very beautiful Christmas message. And I take this opportunity to wish a Merry Christmas to all. Thank you, "said Dominique Ouattara.
Taking advantage of this special moment, Fr. Norbert Eric Abekan launched a true invitation to love and sharing. A message according to him that is justified by the generalization of violence in all its forms in the world. "In a world where God does not exist, it is violence. And Christmas comes to tell us how good God is, "he said. Better, the man of God has invited a genuine dialogue between men beyond religions, ideologies and all forms of difference. He concluded by thanking the First Lady for her commitment to the poor in general and children in particular.
Amegah Yan Christ, spokesman for the children of the parish, also thanked the First Lady for all her actions in favor of the country's children.