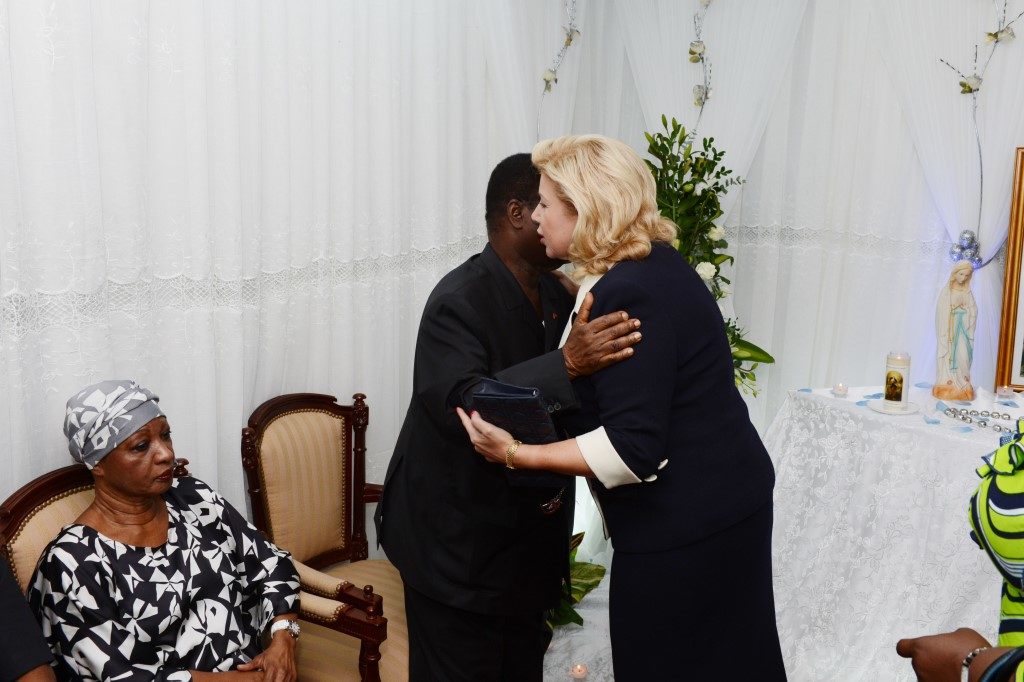 First Lady Dominique Ouattara presented on Friday, October 11th, 2013, condolences to the family of Mrs. Bedié following the death, last October 8th, Mrs. Koizan ETCHE Rose, big-sister Henriette Bedié. True to the adage saying that a pain shared is half relieved, Mrs. Dominique Ouattara could not remain on the sidelines of the misfortune that has hit the great families Koizan and Bedié. Thus, to translate her solidarity to the bereaved families, the First Lad, Mrs. Dominique Ouattara was accompanied by a large delegation including the Minister of Solidarity, Family , Women and Children, Anne Desirée Ouloto , Mrs. Rhokia Ouattara, Mrs. Sita Kéita and Amy Toungara , Deputy of Treichville town. Henriette Bedié was flanked by her husband, President Henri Konan Bedié. And since in Africa, pain often results in strong actions, Mrs. Dominique Ouattara held to financially support the family of the deceased in the funeral arrangements. She offered five million CFA francs to the bereaved family. A gesture highly appreciated by the deceased family. And pain translated by the First Lady in the following words in the condolences presentation book: "All my condolences to my dear sister Henriette and Koizan Bedié family. May the soul of auntie Rose rest in peace", Mrs. Dominique Ouattar " Words full of meaning.
For information purposes, the funeral program will be as follows: on Thursday, October 17th, 2013 from 19h am to 21h pm prayer vigil in the IVOSEP Felix Houphouet-Boigny room.
The transfer of the body will take place, on Saturday, October 19th, 2013 at the Felix Houphouet -Boigny room of IVOSEP, followed by the requiem mass at St. Anne Parish of Port -Bouet and the burial at the Aboisso cemetery. And finally on Sunday, October 20th, 2013 , a Mass of thanksgiving in the parish of Saint Jean de Cocody .