Mrs. Dominique Ouattara at the Foundation Dinner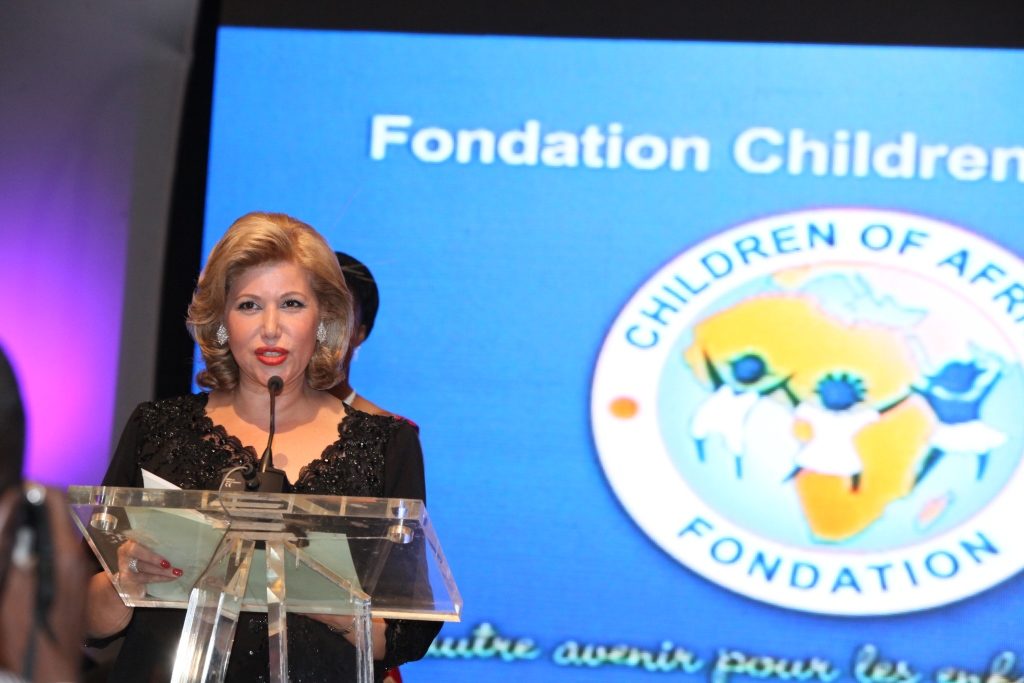 It took place. And it kept its promise. The first Gala Dinner organized on Friday, February 24th at the Palais des Congrès de l'Hôtel Ivoire in Abidjan by Children of Africa Foundation, since its creation has gathered great people. Personalities from around the world have worked together to support the cause of the mother and the child. A cause that brought together, during the party that evening, not only stars like Alain Delon, guest of honor of the Gala, Princess Ira von Fürstenberg, patron of Children of Africa, Adriana Karembeu, MC Solaar, Salif Keita, Ryan Leslie, Liz MC Comb, Samuel Eto'o Fils, but also personalities in politics headed by President Alassane Ouattara, and finally personalities in health, finance and thousands of anonymous all anxious to support Mrs. Dominique Ouattara.
All the ingredients were definitely there to give a special quality to the evening. The magic of the setting, the languorous music, exquisite and exotic have all made the guests of the underprivileged children mother dream. However, the historical aspect of the evening changed nothing in its humanitarian dimension. Besides Mrs. Dominique Ouattara did not fail to reiterate her conviction which is to serve the weakest and the poorest. Thus, speaking the mother of poor children did a report on the actions undertaken by the Foundation. A satisfactory track record indeed. But she thinks that these actions are insufficient given the widespread poverty among the population. "Children of Africa Foundation has helped save lives through immunization against serious diseases such as: typhoid fever and meningitis. She has helped thousands of women to be more autonomous and brought happiness to children with libraries and Christmas trees. However, given the still important needs of the people, I sometimes think that our actions are a drop in the ocean, "said Dominique Ouattara to her guests. But against this bleak picture, hope is still allowed. "(…) But then when I see the smile on children's faces, I realize that every little gesture of love can make a miracle and change the life of a child in a difficult situation," she shared.