Mrs. Dominique Ouattara provides relief for Muslim women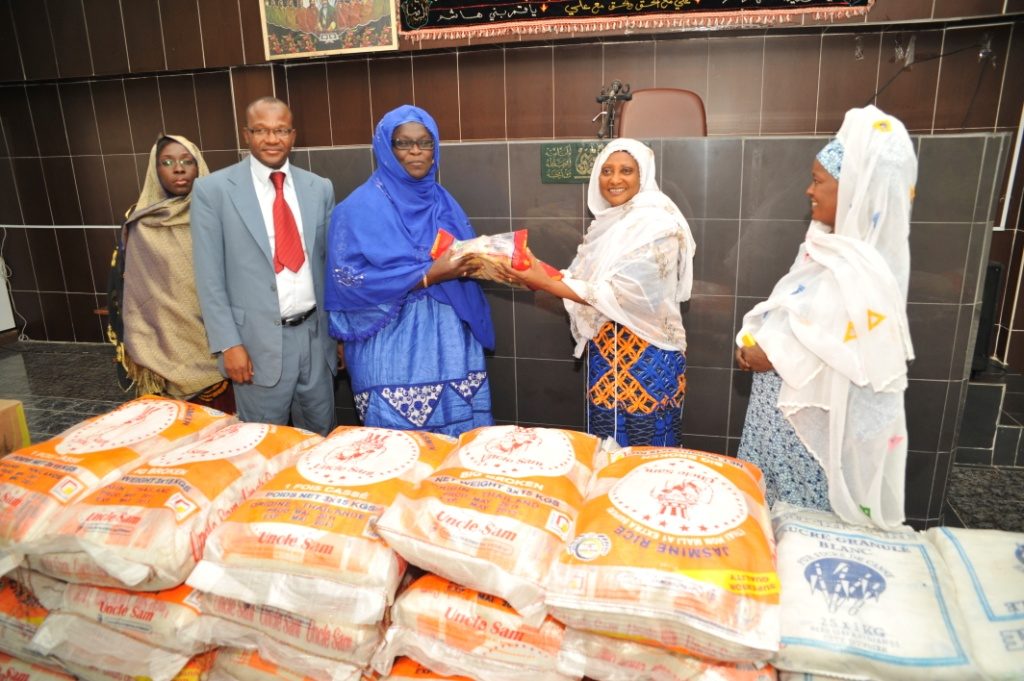 Mme Dominique Ouattara a offert, le jeudi 18 Août, des vivres aux femmes musulmanes de Côte d'Ivoire. Une manière pour la Première des ivoiriennes de soutenir ses concitoyennes pendant le mois de jeûne musulman. Mais aussi, de leur marquer son attachement indéfectible pour le rôle que les femmes ont joué pendant la crise postélectorale.
Au cours de la cérémonie qui s'est déroulée à Adjamé Saint Michel, en présence de Mme Sita Keïta, belle sœur de la Première Dame et représente de cette dernière absente, ces femmes regroupées au sein de la Confédération des Femmes Musulmanes de Côte d'Ivoire (COFEMCI) se sont vues offertes 20 sacs de riz (oncle Sam), 10 cartons de sucre, 03 cartons de bonnet rouge, 50 sacs de pâtes alimentaires de 5 kg et 02 cartons de lait en poudre. Dons appréciés à leur juste valeur par les femmes musulmanes qui n'ont pas tari d'éloges et de bénédictions en faveur du couple présidentiel. D'autant plus qu'elles ont reçu, quelques jours auparavant, des dons du Président Alassane Ouattara. Fofana Mariam, présidente de la COFEMCI n'a pas dit autre chose. «(…) Déjà le Président Alassane Ouattara nous avait remis 40 cartons de sucre et 20 sacs de riz.
8
Mrs. Dominique Ouattara provided, on Thursday, August 18th, food for Muslim women in Côte d'Ivoire. A way for the First of Ivorian Ladies, of supporting her fellow citizens during the Muslim month of fasting. But to also mark her unwavering commitment to the role women played during the post-election crisis.
During the ceremony, which was held in Adjamé Saint Michel, in the presence of Mrs. Sita Keïta, sister in law of the First Lady as the latter was absent, these women grouped in the Confederation of Muslim Women of Côte Ivoire (COFEMCI) have been offered 20 bags of rice (Uncle Sam), 10 boxes of sugar, 03 cartons of milk (Bonnet Rouge), 50 bags of 5 kg of pasta and 02 cartons of milk powder. The donations have been appreciated at their true value by Muslim women who were effusive in their praise for and blessings for the presidential couple. All the more so because they have received a few days ago, donations of President Alassane Ouattara. Mariam Fofana, President COFEMCI did not say anything else. "(…) President Alassane Ouattara had already given us 40 boxes of sugar and 20 bags of rice.