National Festival of Arts and Culture in Schools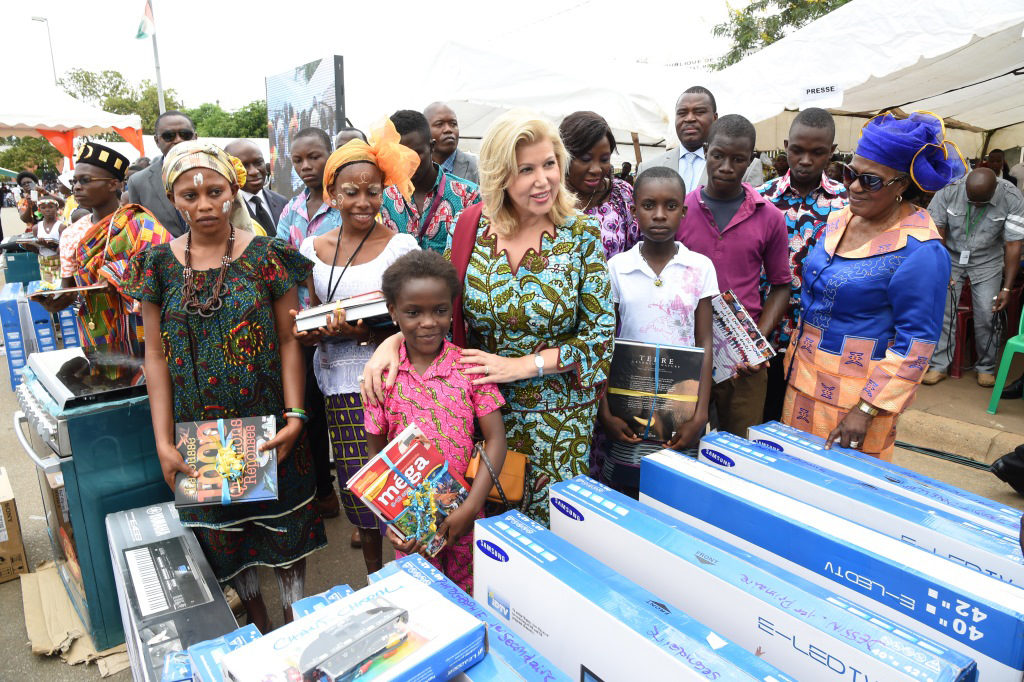 The First Lady Dominique Ouattara chaired on Saturday, August 2nd, 2014 at the "Place du Carnival" in Bouaké, the closing ceremony of the third edition of the National Festival of Arts and Culture in Schools (FENACMIS). This rendez-vous of arts and culture in schools gathered during 05 days in the capital of the GBEKE nearly 1,465 festival-goers from around the country. Thus, 170 troops from primary and secondary cycles, competed in disciplines as diverse as film; the choral singing; traditional dance; tales; poetry; drawing; painting; photography and cooking. The central theme of this festival is "protecting the environment of our children for a sustainable development." Tha theme is, without any doubt, a good argument for socio-educational development of children through the practice of artistic and cultural activities.
At the end of the competition, the jury selected 60 winners. An opportunity seized by the Chairperson of the ceremony, Mrs. Dominique Ouattara to testify her full support to the winners of the festival. As usual, it's with hands full of gifts that the First Lady, Mrs. Dominique Ouattara made the trip of Bouaké. She offered gifts in kind and in cash worth CFA francs 20 million to the winners and to the populations present. Specifically, Mrs. Dominique Ouattara offered 14 LED TV of 42 inch screen; 03 pianos; 02 large cookers; and projectors to various winners. The value of these donations: F CFA 10 million. The First Lady did not stop there. She also offered CFA francs 10 million in cash, to the festival-goers and people present.
It's an adherence that the wife of the Head of State wanted highlight greatly. Besides, she did not hesitate to point out it in her remarks by encouraging children to the practice of art and culture in schools. "(…) In fact, thanks to this festival, our children have been introduced to the arts and culture of our country, and are aware of relevant topics to their civic and moral education. They were able to practice educational activities that become a passion for some or even a job. I strongly encourage this initiative because it is an ideal platform for the promotion of certain values that are essential to the education of our children, "she revealed. For the First Lady, the introduction to arts and culture develop in children values such as community life, which implies respect for others, discipline; the culture of friendship and brotherhood, and finally solidarity.