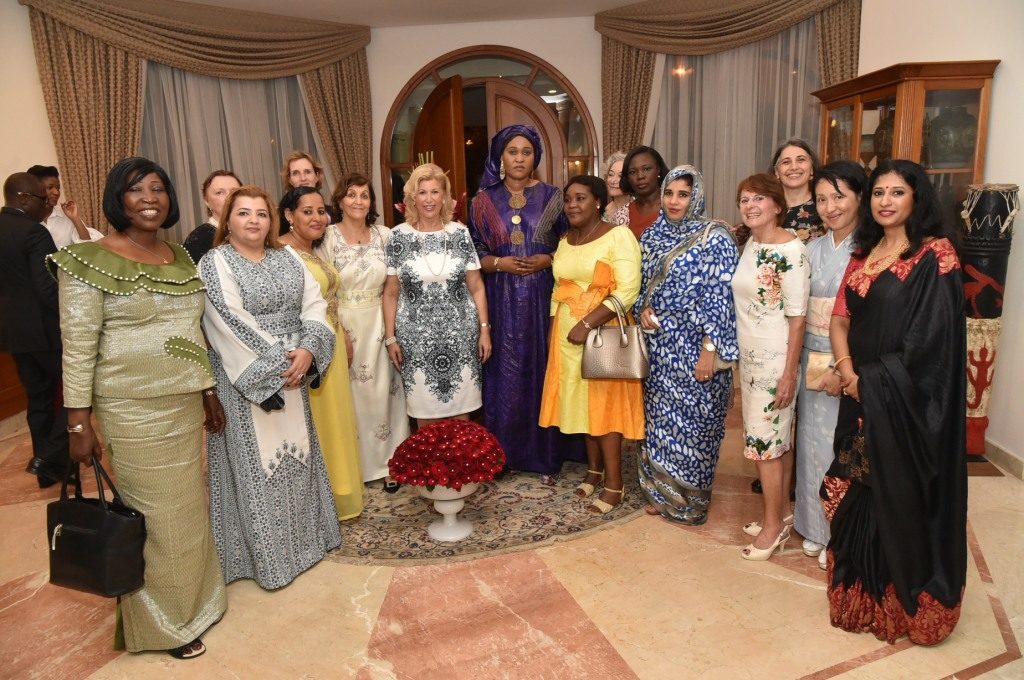 Women of all social strata extended their best wishes for the new year to Mrs. Dominique Ouattara, First Lady of Côte d'Ivoire, during a ceremony on Tuesday, January 09, 2018 in the garden of the Presidential residence.
The ceremony witnessed the participation of Female members of government, presidents of institutions, female members of parliament, female members of the diplomatic corps, wives of Ministers and Ambassadors, female General Directors, Female entrepreneurs, female in armed and police forces and those in other fields of activity.
On behalf of families and women of Côte d'Ivoire, Mrs. Mariatou Koné, Minister of Women, Child Protection and Solidarity, has expressed her gratitude to Mrs. Dominique Ouattara for actions carried out throughout 2017 for the well-being of the people. "(…) On behalf of the women and families of Côte d'Ivoire, for this new year I am pleased to present you and your dear husband, the President of the Republic, His Excellency Alassane Ouattara and your loved ones a very good and happy new year, may this year be full of health and energy for you to continue to take and implement actions in line with the promotion of women, the protection of the child and the well-being of our population". Indeed the Minister for Women, Child Protection and Solidarity highlighted the many international and national meetings that enabled the First Lady to defend the causes of children and women. She also mentionned that the First Lady's efforts have certainly contributed to reposition Côte d'Ivoire on the international stage. She indicated the 3rd edition of the "Hidden Hunger" International Congress in Stuttgart, Germany, where Mrs. Dominique Ouattara was invited as main speaker. In terms of the subregion cooperation, she cited the ECOWAS First Ladies Forum, which was held between 2 and 5 October 2017 in Niamey, Niger, to provide an answer for the eradication of obstetric fistula in West Africa and the Conference of First Ladies of West Africa and Sahel on Combating Violence, Trafficking, Exploitation and Child Labor held from 17 to 18 October 2017 in Abidjan.