N'zassa Fashion Festival of Treichville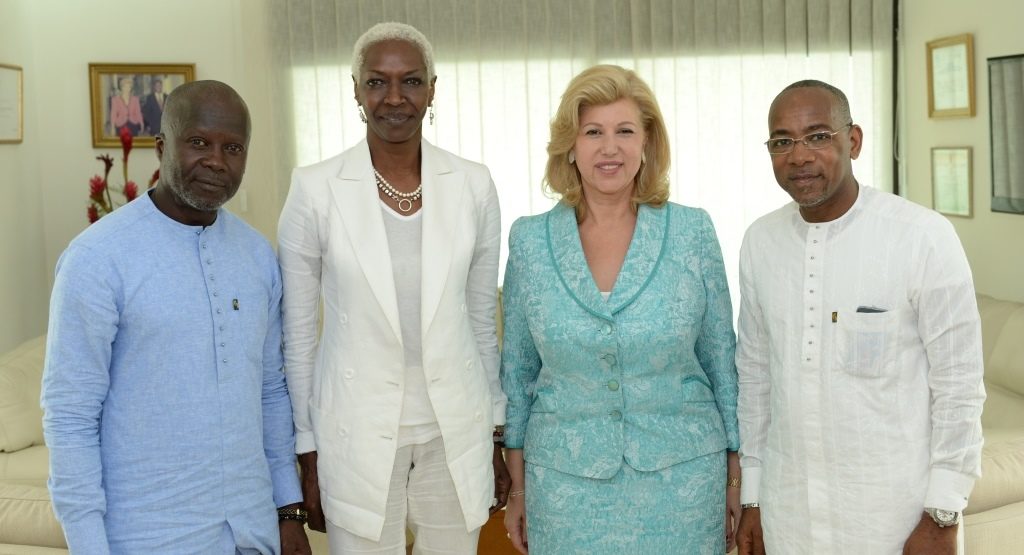 First Lady Dominique Ouattara has received in audience the fashion designer Ciss Saint Moses and Princess Esther Kamatari first black supermodel in Europe, on Thursday, March 19, 2015 at her office in Cocody. A few days ahead of the fashion festival called "N'zassa Mode" that the fashion designer organizes from 19 to 21 March 2015 in Treichville, wanted to come to inform the First Lady of the event, but to also introduce the distinguished guest of this fashion rendez-vous, the Burundian Princess Esther Kamatari, the first black top model in Europe and Ambassador of Guerlain brand throughout the world.
First Lady Dominique Ouattara spoke for about thirty minutes with her visitors.
After the interview, Princess Esther Kamatari lifted a corner of the veil on the reasons for the visit. "It was impossible for me to come to this beautiful country without coming to greet the First of all ladies in Côte d'Ivoire. It is a duty for me. Although obviously, the purpose of my visit is to sensitize her about the Treichville N'Zass Festival", she said.
After expressing her joy for this invitation, the ambassador of Guerlain trademark reminded the economic-cultural stakes of this festival. For the latter, it is an open secret that Côte d'Ivoire remains a hub of fashion and culture in Africa. She concluded by stressing the importance of this event. Thus, according to Princess Esther Kamatari, the festival will bring together 37 designers and stylists from all over Africa. To this end, 90 models, including 25 men will be mobilized on the podium at the event.
Fashion designer Ciss Saint Moïse meanwhile, reminded that the Treichville N'zassa Fashion festival is in its first edition. It will consist of two shows. The first show is scheduled for Friday, March 20, 2015 in Treichville at the "Espace Canal Bois" on invitation card. The second open to the general public, will take place in the streets of Treichville, on Saturday, March 21, 2015. The festival will be attended by designers from Senegal, Gabon, Mozambique, Cameroon, Niger, Congo, France, etc.