On a working visit In Washington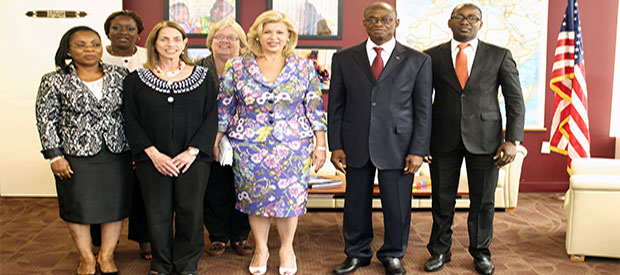 After the US Congress, the First Lady, has been received Friday, June 26th, 2015, at the headquarters of African Development Foundation (USADF) by the President and CEO Mrs. SHARI BERENBACH. This American organization joined Mrs. Dominique Ouattara's vision who through the Support Fund for the women of Côte d'Ivoire (FAFCI) and her various support actions, contributes to their empowerment. Mrs. Dominique Ouattara called on African Development Foundation to open an office in Ivory Coast. This action will enable rural women to have the support and expertise of this foundation. In return, Mrs. SHARI Berenbach, Managing Director of African Development Foundation congratulated the Ivorian First Lady for her many initiatives for children and women's well-being.
Note that African Development Foundation is an independent federal agency established to support African development. After the Managing Director of African Development Foundation, the First Lady has received in audience the African Peace Corps Director (Peace Corps), Mr Dick Day. The latter came to see the First Lady to express the wish of his organization to move back to Cote d'Ivoire after several years of absence due to the crisis that the country underwent. Mrs. Dominique Ouattara encouraged her guest to translate that commitment into action. Created in 1961 by President John F. Kennedy, the US Peace Corps is a development agency, of which one of the main objectives is to provide countries interested men and women of US citizenship willing to help them meet their needs in country-level management.